No Greatness Without Goodness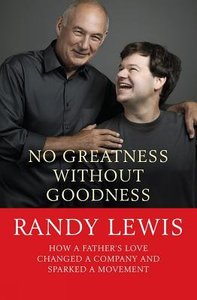 The story of a powerful corporate executive who, after watching the world through the eyes of his autistic child, realized that we all have a greater responsibility to make the world a better place. Seeing that his faith and his work were not two separate things, Randy bet his career that he could create a workplace at one of America's biggest corporations where people with disabilities could not just succeed, but thrive. The result was two productivity leading distribution centres employing 35% people with disabilities and a world-wide influence now reaching Boots and Marks & Spencer here in the UK. 'The Pursuit of Happiness' meets 'The Miracle Worker.'

- Publisher
You May Also Be Interested In
About "No Greatness Without Goodness"
The story of a powerful corporate executive who, after watching the world through the eyes of his autistic child, realized that we all have a greater responsibility to make the world a better place. Seeing that his faith and his work were not two separate things, Randy bet his career that he could create a workplace at one of America's biggest corporations where people with disabilities could not just succeed, but thrive. The result was two productivity leading distribution centres employing 35% people with disabilities and a world-wide influence now reaching Boots and Marks & Spencer here in the UK. 'The Pursuit of Happiness' meets 'The Miracle Worker.'
- Publisher


Meet the Author
Randy Lewis
Randy Lewis is senior vice president of Supply Chain and Logistics for Walgreens, one of America's largest corporations (and which part owns Boots the Chemist). He is responsible for the design and operation of Walgreens' supply chain network, including operations, engineering, IT systems, and inventory management. In addition to imports, Lewis oversees Walgreens' domestic network of fifteen automated distribution centers, and one of the U.S.'s largest private trucking fleets that supply its 7,900 stores in all fifty U.S. states and Puerto Rico. Lewis was an instrumental leader in introducing a new concept to Walgreens. He transformed the company's distribution centers and employment opportunities. Walgreens' two most recently-opened distribution centers employ an inclusive and integrated workforce partially composed of persons with disabilities who are held to the same work standards and earn the same pay as their fellow 'typically-abled' workers. He lives in Deerfield, Illinois with his family.