No Limits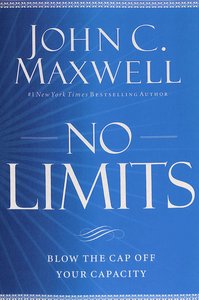 :#1 New York Times bestselling author John C. Maxwell's latest book will enhance the lives of leaders, professionals, and anyone who wants to achieve success and personal growth.

We often treat the word capacity as if it were a natural law of limitation. Unfortunately, most of us are much more comfortable defining what we perceive as off limits rather than what's really possible. Could it be that many of us have failed to expand our potential because we have allowed what we perceive as capacity to define us? What if our limits are not really our limits?

In his newest book, John Maxwell identifies 17 core capacities. Some of these are abilities we all already possess, such as energy, creativity and leadership. Others are aspects of our lives controlled by our choices, like our attitudes, character, and intentionality. Maxwell examines each of these capacities, and provides clear and actionable advice on how you can increase your potential in each. He will guide you on how to identify, grow, and apply your critical capacities. Once you've blown the "cap" off your capacities, you'll find yourself more successful--and fulfilled--in your daily life.

- Publisher
You May Also Be Interested In
About "No Limits"
:#1 New York Times bestselling author John C. Maxwell's latest book will enhance the lives of leaders, professionals, and anyone who wants to achieve success and personal growth.

We often treat the word capacity as if it were a natural law of limitation. Unfortunately, most of us are much more comfortable defining what we perceive as off limits rather than what's really possible. Could it be that many of us have failed to expand our potential because we have allowed what we perceive as capacity to define us? What if our limits are not really our limits?

In his newest book, John Maxwell identifies 17 core capacities. Some of these are abilities we all already possess, such as energy, creativity and leadership. Others are aspects of our lives controlled by our choices, like our attitudes, character, and intentionality. Maxwell examines each of these capacities, and provides clear and actionable advice on how you can increase your potential in each. He will guide you on how to identify, grow, and apply your critical capacities. Once you've blown the "cap" off your capacities, you'll find yourself more successful--and fulfilled--in your daily life.
- Publisher


Meet the Author
John C Maxwell
John C. Maxwell is an internationally recognized leadership expert, speaker, and author who has sold over 13 million books. His organizations have trained more than 2 million leaders worldwide. Dr. Maxwell is the founder of Injoy Stewardship Services and EQUIP. Every year he speaks to Fortune 500 companies, international government leaders, and organizations as diverse as the United States Military Academy at West Point and the National Football League. A New York Times, Wall Street Journal, and Business Week best-selling author, Maxwell was one of 25 authors and artists named to Amazon.com's 10th Anniversary Hall of Fame. Three of his books, The 21 Irrefutable Laws of Leadership, Developing the Leader Within You and The 21 Indispensable Qualities of a Leader have each sold over a million copies. - Publisher.