No More Christian Nice Girl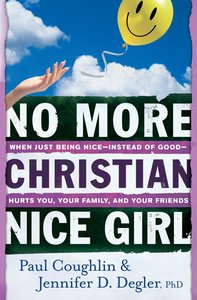 When passivity and false niceness don't bring the abundant life Jesus promised, some Christian women try even harder to hide behind a fragile façade of pleasant perfection. Paul Coughlin and Jennifer Degler give women the empowering message that they have options far beyond simply acting nice or being mean--if they will emulate the real Jesus Christ and face their fears of conflict, rejection, and criticism. Brimming with enlightening information, thought-provoking questionnaires, real-life stories, and biblically based teaching from both the male author of the pioneering No More Christian Nice Guy and a female clinical psychologist, this book will motivate women to allow God to transform them into authentic, powerful women of loving faith.

- Publisher
You May Also Be Interested In
About "No More Christian Nice Girl"
When passivity and false niceness don't bring the abundant life Jesus promised, some Christian women try even harder to hide behind a fragile façade of pleasant perfection. Paul Coughlin and Jennifer Degler give women the empowering message that they have options far beyond simply acting nice or being mean--if they will emulate the real Jesus Christ and face their fears of conflict, rejection, and criticism. Brimming with enlightening information, thought-provoking questionnaires, real-life stories, and biblically based teaching from both the male author of the pioneering No More Christian Nice Guy and a female clinical psychologist, this book will motivate women to allow God to transform them into authentic, powerful women of loving faith.
- Publisher


Meet the Authors
Paul Coughlin
Paul Coughlin is an international speaker and hosts a radio talk show in southern Oregon. He is the author of No More Christian Nice Guy, Married But Not Engaged, Creating an Intimate Marriage, Confident Parenting and No More Jellyfish, Chickens or Wimps. Paul has been interviewed by Newsweek, Good Morning America, Nightline, C-SPAN, The New York Times, and The LA Times, among other media. His articles have appeared in many publications, including New Man, Faithworks, Today's Christian, Today's Christian Woman, and Ministries Today. He has also been editor of a weekly newspaper and a radio station program director. Paul is a happily married father, and is a contributor and blogger for Crosswalk.com. The Coughlin family lives in Medford, Oregon.