No More Headaches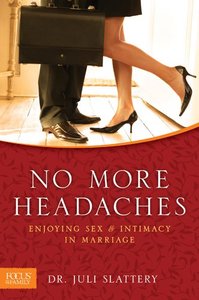 Both husbands and wives can be extremely frustrated by the differences in sexual needs and expectations between them. This frustration manifests itself as fighting, resentment, feelings of either guilt or rejection, and general marital strife. There are few safe and appropriate places to ask the questions about sex that frustrate and confuse women most. In "No More Headaches," Juli Slattery provides that place with honest answers that target women's specific needs. Her warm and compassionate style come through as she examines the underlying issues that prevent couples from having a satisfying sex life. Helping husbands and wives understand and address the sexual relationship with their spouse will improve the marriage by reducing stress and frustration in that area, which will reduce stress in other areas of marriage as well. Each chapter contains questions for reflection and questions for couples to discuss. Juli Slattery has extensive experience speaking to women about marriage, par

- Publisher ""My husband and I have such different expectations about how often to make love that we end up angry and frustrated. Will somebody please answer the frequency question?"" ""I don't understand my husband's sexual needs. All we ever do is argue about our differences."" As a psychologist and speaker, Dr. Juli Slattery has listened to countless wives tearfully share their hurt and disappointment about their sexual relationships with their husbands. She understands their struggles and the bewilderment they feel.In "No More Headaches," Juli offers honest answers to the questions wives are afraid to ask. With warmth and compassion, she helps women understand the sexual differences between men and women and offers practical advice for those who want to strengthen-or save-their marriages. Sex can become a source of unity and intimacy instead of division in your marriage!

- Publisher
You May Also Be Interested In
About "No More Headaches"
Both husbands and wives can be extremely frustrated by the differences in sexual needs and expectations between them. This frustration manifests itself as fighting, resentment, feelings of either guilt or rejection, and general marital strife. There are few safe and appropriate places to ask the questions about sex that frustrate and confuse women most. In "No More Headaches," Juli Slattery provides that place with honest answers that target women's specific needs. Her warm and compassionate style come through as she examines the underlying issues that prevent couples from having a satisfying sex life. Helping husbands and wives understand and address the sexual relationship with their spouse will improve the marriage by reducing stress and frustration in that area, which will reduce stress in other areas of marriage as well. Each chapter contains questions for reflection and questions for couples to discuss. Juli Slattery has extensive experience speaking to women about marriage, par
- Publisher

""My husband and I have such different expectations about how often to make love that we end up angry and frustrated. Will somebody please answer the frequency question?"" ""I don't understand my husband's sexual needs. All we ever do is argue about our differences."" As a psychologist and speaker, Dr. Juli Slattery has listened to countless wives tearfully share their hurt and disappointment about their sexual relationships with their husbands. She understands their struggles and the bewilderment they feel.In "No More Headaches," Juli offers honest answers to the questions wives are afraid to ask. With warmth and compassion, she helps women understand the sexual differences between men and women and offers practical advice for those who want to strengthen-or save-their marriages. Sex can become a source of unity and intimacy instead of division in your marriage!
- Publisher


Meet the Author
Julianna Slattery
Julianna Slattery's articles appear in Christian magazines like Marriage Partnership and Today's Christian Woman. A teacher and speaker on psychological issues affecting families and children, Dr. Slattery lectures frequently at churches, organizations, schools and conferences. She is a regular guest on local and national Christian radio shows, including Moody Broadcasting Network's Midday Connection. Dr. Slattery and her husband are the parents of three young boys and live in Ohio.