No Place For a Lady (#01 in Heart Of The West Series)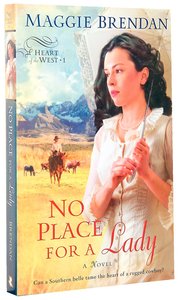 Crystal Clark arrives in Colorado's Yampa Valley amid the splendor of a high country June in 1892. After the death of her father, Crystal is relieved to be leaving the troubles of her Georgia life behind to visit her aunt Kate's cattle ranch. Despite being raised as a proper Southern belle, Crystal is determined to hold her own in this wild land - even if a certain handsome foreman doubts her abilities.Just when she thinks she's getting a handle on the constant male attention from the cowhands and the catty barbs from some of the local young women, tragedy strikes the ranch. Crystal will have to tap all of her resolve to save the ranch from a greedy neighboring landowner. Can she rise to the challenge? Or will she head back to Georgia defeated? Book one in the Heart of the West series, No Place for a Lady is full of adventure, romance, and the indomitable human spirit. Readers will fall in love with the Colorado setting and the spunky Southern belle who wants to claim it as her own.



- Publisher Can a Southern belle tame the heart of a rugged cowboy? Readers will fall in love with "No Place for a Lady"'s Colorado setting and the spunky heroine who wants to claim it as her own.

- Publisher
You May Also Be Interested In
About "No Place For a Lady (#01 in Heart Of The West Series)"
Crystal Clark arrives in Colorado's Yampa Valley amid the splendor of a high country June in 1892. After the death of her father, Crystal is relieved to be leaving the troubles of her Georgia life behind to visit her aunt Kate's cattle ranch. Despite being raised as a proper Southern belle, Crystal is determined to hold her own in this wild land - even if a certain handsome foreman doubts her abilities.Just when she thinks she's getting a handle on the constant male attention from the cowhands and the catty barbs from some of the local young women, tragedy strikes the ranch. Crystal will have to tap all of her resolve to save the ranch from a greedy neighboring landowner. Can she rise to the challenge? Or will she head back to Georgia defeated? Book one in the Heart of the West series, No Place for a Lady is full of adventure, romance, and the indomitable human spirit. Readers will fall in love with the Colorado setting and the spunky Southern belle who wants to claim it as her own.


- Publisher

Can a Southern belle tame the heart of a rugged cowboy? Readers will fall in love with "No Place for a Lady"'s Colorado setting and the spunky heroine who wants to claim it as her own.
- Publisher


Meet the Author
Maggie Brendan
Maggie Brendan is a member of American Christian Writers and the American Fiction Writers Association, and is a contributor to www.bustlesandspurs.com, a website for inspirational romance in the old West. You can read her blog at southernbellewriter.blogspot.com. She is the author of No Place for a Lady and The Jewel of His Heart, and lives in Georgia.
Customer Reviews For "No Place For a Lady (#01 in Heart Of The West Series)"
Write Your Own Review
Great characters
By Margot,

Apr 29 2016
When Crystal travels west to visit her aunt on her cattle ranch in beautiful Yampa Valley, she meets Luke, her aunt's rugged ranch foreman. Straight away, their different personalities and upbringings set them apart. Crystal is more accustomed to fine Southern society, but Luke and the locals know little about such things. It all gets even more interesting when the aunt dies. This book is full of great characters - we love to love the hero and his lady, and the 'baddies' are easy to dislike. it is more than romance. the characters grow in faith and maturity and change the way they think. All in all, a very enjoyable story.
---
good
By Victoria ,

Nov 20 2014
An easy read, including conspiracy, romance and determination to succeed.
All in all a good read.
---
Sweet
By IM,

Sep 16 2014
It's a sweet cute story.  It's not a faith builder.  But it's still a nice romance that relaxes your mind without being boring or slow.  I enjoyed it.
---
A very enjoyable read.
By Rochelle NSW,

Feb 20 2014
I am rather proud of my first ever ebook download. 
Heart of the West is a historical romance and I've really enjoyed reading Crystal Clark's journey of God's faithful provision. 
Crystal arrives at her Aunts ranch in Colorado after the death of her Father and is soon settled into a new way of life. 
Country verses City in the 1890's is well described. The support of community during hard times back then was very different to our modern world of 'supporting each other '.
The harshness and beauty of nature when trying to make a living is still the same for those who are farmers today. How quickly nature can turn and bring devastation. Yet Gods provision is told beautifully in this story. 
The comfort of kindness and the eventual love and commitment of the two main characters is a wonderful story; although they are feisty towards each other at first, which is fun.
Luke is a strong, faithful, God seeking character who faces his wrong choices and walks onto the path God has for his best life. 
I'm looking forward to the second book in the series and watching the lives of two new characters unfold. 
Gods plan for us is one of peace n provision, for our good. Sometimes we need to surrender 'us' to find it.
I hope you'll enjoy this story like I have.
{{review.title}}
By {{review.author.name}},

{{review.reviewCreatedDate | date:'MMM dd yyyy'}}

{{reviewdescription}}
{{review.text}}
---
Other Titles In The "Heart Of The West" Series