Nonviolent Action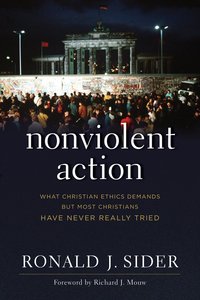 There are numerous examples throughout history of effective nonviolent action. Nonviolent protesters defied the Soviet Empire's communist rulers, Gandhi's nonviolent revolution defeated the British Empire, and Martin Luther King Jr.'s peaceful civil-rights crusade changed American history. Recent scholarship shows that nonviolent revolutions against injustice and dictatorship are actually more successful than violent campaigns. In this book, noted theologian and bestselling author Ron Sider argues that the search for peaceful alternatives to violence is not only a practical necessity in the wake of the twentieth century--the most bloody in human history--but also a moral demand of the Christian faith. He presents compelling examples of how nonviolent action has been practiced in history and in current social-political situations to promote peace and oppose injustice, showing that this path is a successful and viable alternative to violence.

- Publisher
You May Also Be Interested In
About "Nonviolent Action"
There are numerous examples throughout history of effective nonviolent action. Nonviolent protesters defied the Soviet Empire's communist rulers, Gandhi's nonviolent revolution defeated the British Empire, and Martin Luther King Jr.'s peaceful civil-rights crusade changed American history. Recent scholarship shows that nonviolent revolutions against injustice and dictatorship are actually more successful than violent campaigns. In this book, noted theologian and bestselling author Ron Sider argues that the search for peaceful alternatives to violence is not only a practical necessity in the wake of the twentieth century--the most bloody in human history--but also a moral demand of the Christian faith. He presents compelling examples of how nonviolent action has been practiced in history and in current social-political situations to promote peace and oppose injustice, showing that this path is a successful and viable alternative to violence.
- Publisher


Meet the Author
Ronald J Sider
Ronald J. Sider (PhD. (History): Yale University) is the president of Evangelicals for Social Action and professor of theology, holistic ministry, and public policy at Palmer Theological Seminary. He is the author of more than twenty-five books, including the well-received The Scandal of the Evangelical Conscience, Just Generosity, Why Are Christians Living Just Like the Rest of the World?; Good News and Good Works: A Theology for the Whole Gospeland the bestselling Rich Christians in an Age of Hunger.
Table Of Contents
There Are Numerous Examples Throughout History Of Effective Nonviolent Action. Nonviolent Protesters Defied The Soviet Empire's Communist Rulers, Gandhi's Nonviolent Revolution Defeated The British Empire, And Martin Luther King Jr.'s Peaceful Civil-rights Crusade Changed American History. Recent Scholarship Shows That Nonviolent Revolutions Against Injustice And Dictatorship Are Actually More Successful Than Violent Campaigns. In This Book, Noted Theologian And Bestselling Author Ron Sider Argues That The Search For Peaceful Alternatives To Violence Is Not Only A Practical Necessity In The Wake Of The Twentieth Century--the Most Bloody In Human History--but Also A Moral Demand Of The Christian Faith. He Presents Compelling Examples Of How Nonviolent Action Has Been Practiced In History And In Current Social-political Situations To Promote Peace And Oppose Injustice, Showing That This Path Is A Successful And Viable Alternative To Violence.