Not Afraid of the Antichrist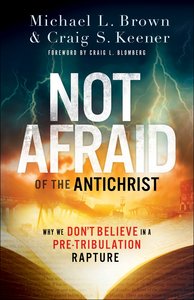 Despite the popular theology of our day, Christians should not expect to get out of experiencing the tribulation or the end times. Nowhere in the Bible does the Lord promise us this, say Michael Brown and Craig Keener, two leading, acclaimed Bible scholars. In fact, they say, Jesus promises us tribulation in this world.

Yet this is no reason to fear. In this fascinating, accessible, and personal book, Brown and Keener walk you through what the Bible really says about the rapture, the tribulation, and the end times. What they find will leave you full of hope. God's wrath is not poured out on His people, and He will shield us from it--as he shielded Israel in Egypt during the ten plagues. So instead of taking comfort in what God hasn't promised, take comfort in the words of Jesus: He has overcome the world, and we live in his victory.

- Publisher
You May Also Be Interested In
About "Not Afraid of the Antichrist"
Despite the popular theology of our day, Christians should not expect to get out of experiencing the tribulation or the end times. Nowhere in the Bible does the Lord promise us this, say Michael Brown and Craig Keener, two leading, acclaimed Bible scholars. In fact, they say, Jesus promises us tribulation in this world.

Yet this is no reason to fear. In this fascinating, accessible, and personal book, Brown and Keener walk you through what the Bible really says about the rapture, the tribulation, and the end times. What they find will leave you full of hope. God's wrath is not poured out on His people, and He will shield us from it--as he shielded Israel in Egypt during the ten plagues. So instead of taking comfort in what God hasn't promised, take comfort in the words of Jesus: He has overcome the world, and we live in his victory.
- Publisher


Meet the Authors
Michael L Brown
Dr Michael L. Brown holds a Ph.D. in Near Eastern Languages and Literatures from New York University and has served as a visiting or adjunct professor at seven top seminaries. The author of more than twenty-five books, Brown also leads a ministry school that specializes in world missions and has preached and taught across America and around the world. He hosts the Line of Fire radio program, two hours daily and syndicated on several networks, as well as an apologetics TV program that airs on NRBTV. Michael has appeared often on secular and Christian media (including Piers Morgan, Tyra Banks, Phil Donahue, 700 Club, and Daystar) and has conducted debates or outreach lectures on major campuses, including Oxford University, the Hebrew University (Jerusalem), Ohio State University, Yale, and USC. Michael and his wife, Nancy, have two children and four grandchildren. They live near Charlotte, NC.
Craig S Keener
Craig S. Keener (Ph.D., Duke University) is Professor of New Testament at Palmer Theological Seminary, Eastern University. He is also the author of many books, including commentaries on Matthew; John; Revelation (New International Version Application Commentary); The Spirit in the Gospels and Acts: Divine Purity and Power; Paul, Women, and Wives: Marriage and Womens Ministry in the Letters of Paul and And Marries Another: Divorce and Remarriage in the Teaching of the New Testament.
Koorong -Editorial Review.