Not Alone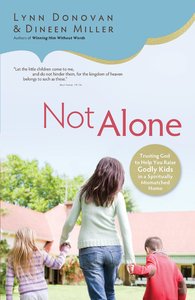 Moms who are the sole spiritual leader in their home wonder if their influence is enough to impact the spiritual lives of their children. Not Alone is encouragement and wisdom for spiritually mismatched moms, whether they are married to a non-Christian, single, divorced, or navigating the challenges of a blended family. It is possible to raise children who have a vibrant relationship with Christ. Their insights and stories will help mothers understand how God helps moms do their part and can trust him to do his. Plus, Not Alone includes practical steps to instill children with faith.

- Publisher
You May Also Be Interested In
About "Not Alone"
Moms who are the sole spiritual leader in their home wonder if their influence is enough to impact the spiritual lives of their children. Not Alone is encouragement and wisdom for spiritually mismatched moms, whether they are married to a non-Christian, single, divorced, or navigating the challenges of a blended family. It is possible to raise children who have a vibrant relationship with Christ. Their insights and stories will help mothers understand how God helps moms do their part and can trust him to do his. Plus, Not Alone includes practical steps to instill children with faith.
- Publisher


Meet the Authors
Lynn Donovan
LYNN DONOVAN writes for the online ministry she founded in 2006, Spiritually Unequal Marriage. Lynn is a popular Bible study leader and national speaker who dispels the myths women believe about love and marriage and points them to the freedom that is theirs through a living relationship with Christ. She lives in Temecula, California, with her husband, Mike.
Dineen Miller
Dineen Miller believes her years as a youth counselor, a Stephen Minister, a women's ministry leader and a small group leader fuel her desire to ignite the souls of others through words of truth. She's also a C.L.A.S.S. Communicator and has been featured on the Moody Radio Network, Family on the Family and FamilyLife Today. She lives in the Bay Area with her husband. They have two daughters and a son-in-law. Dineen is the coauthor of Winning Him Without Words, and author of The Soul Saver. Visit Dineen online at spirituallyunequalmarriage.com.