Not Quite An Angel (#04 in Decisions Series)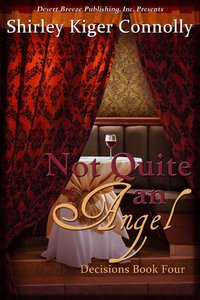 Sir Geoffrey Wentworth thought he knew every alluring woman in San Francisco by now, until on the night before his return to England he meets and is mesmerized by the mysterious Lady Delphia, the daughter of a French Marquis. Not only has she appeared out of nowhere, she unwittingly steals his heart. When Sir Geoffrey tries to learn more about this irresistible lady of the night, the two are caught in the middle of a severe San Francisco earthquake. Sir Geoffrey soon learns this woman of mystery is no daughter of a marquis, at all, but is the younger sister of a simple country parson, and already engaged to be married. If there is anything the honorable Sir Geoffrey Wentworth, 2nd son to the Viscount of Salisbury cannot abide is being duped by a woman

- Publisher
You May Also Be Interested In
About "Not Quite An Angel (#04 in Decisions Series)"
Sir Geoffrey Wentworth thought he knew every alluring woman in San Francisco by now, until on the night before his return to England he meets and is mesmerized by the mysterious Lady Delphia, the daughter of a French Marquis. Not only has she appeared out of nowhere, she unwittingly steals his heart. When Sir Geoffrey tries to learn more about this irresistible lady of the night, the two are caught in the middle of a severe San Francisco earthquake. Sir Geoffrey soon learns this woman of mystery is no daughter of a marquis, at all, but is the younger sister of a simple country parson, and already engaged to be married. If there is anything the honorable Sir Geoffrey Wentworth, 2nd son to the Viscount of Salisbury cannot abide is being duped by a woman
- Publisher


Meet the Author
Shirley Kiger Connolly
A graduate of the Institute of Children's Literature, Shirley Kiger Connolly loves to wear different hats and use both sides of her brain. With her creative mind she pens historical fiction romances laced with nuggets of inspiration, and when wearing her thinking cap, she writes nonfiction devotional books. With a third trusty hat she hopes contains a bit of wisdom, Shirley teaches Koinonia women's bible studies and often speaks at retreats or luncheons. Outside her writing and speaking time, Shirley is an active mom and grandma who loves searches for different way she can rearrange her furniture, if she's not cross-stitching or doing needlework or watching old movies with her husband. As a part-time farm woman, Shirley spends some of her moments with her chickens, her dogs, and her cats. She stays active in American Christian Fiction Writers; Hearts through History Chapter of Romance Writers of America; and last but not least Faith-Hope-Love, RWA.
Other Titles In The "Decisions Series" Series