Notas De Estudio De La Biblia Del Deportista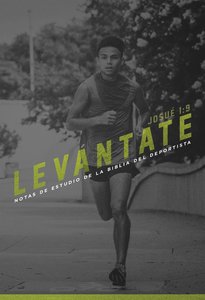 Rise is the 2016 FCA camp theme. Every competitor faces a moment in his or her career when they must rise up. Rise up to the challenge. Rise up and take your place on the field. Rise up when you've been knocked down or defeated. Rise up together as a team. It takes strength, courage and commitment to rise up, give your all and make the moment count.
Yet, you don't have to stand alone. Our God promises to be with us. Jesus Christ will give you the strength and courage to carry your faith into your sport and make a difference for Him. You just have to trust and follow your Coach, Jesus Christ. You can do it. God is with you. Rise Up!
"This is my command-be strong and courageous! Do not be afraid or discouraged. For the Lord your God is with you wherever you go."-Joshua 1:9
- Publisher
You May Also Be Interested In
About "Notas De Estudio De La Biblia Del Deportista"
Rise is the 2016 FCA camp theme. Every competitor faces a moment in his or her career when they must rise up. Rise up to the challenge. Rise up and take your place on the field. Rise up when you've been knocked down or defeated. Rise up together as a team. It takes strength, courage and commitment to rise up, give your all and make the moment count.


Yet, you don't have to stand alone. Our God promises to be with us. Jesus Christ will give you the strength and courage to carry your faith into your sport and make a difference for Him. You just have to trust and follow your Coach, Jesus Christ. You can do it. God is with you. Rise Up!

"This is my command-be strong and courageous! Do not be afraid or discouraged. For the Lord your God is with you wherever you go."-Joshua 1:9


- Publisher