Nowhere But Up: The Story of Justin Bieber's Mom (Teen Edition)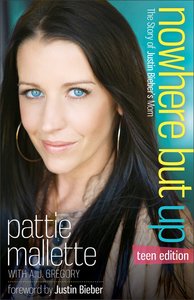 In Nowhere but Up, Pattie Mallette shared for the first time in detail about the pain and abandonment she experienced as a child, the sexual abuse she suffered for years, the severe depression she wrestled with as a teen, the deep struggles she faced as a single mom, and the faith she learned to cling to through dark times. With raw honesty, she spilled the truth about a lifetime of moments that were punctuated by pain yet permeated with grace--and the journey that brought her to where she is today.

Now the New York Times bestselling author brings her incredible life story directly to teen girls, baring her soul about her struggles in order to show them how to find hope even in the most difficult circumstances. Pattie has more than a million Twitter followers, many of whom call her their second mom, and this edition is poised to change the lives of Pattie's teen fans.

- Publisher
You May Also Be Interested In
About "Nowhere But Up: The Story of Justin Bieber's Mom (Teen Edition)"
In Nowhere but Up, Pattie Mallette shared for the first time in detail about the pain and abandonment she experienced as a child, the sexual abuse she suffered for years, the severe depression she wrestled with as a teen, the deep struggles she faced as a single mom, and the faith she learned to cling to through dark times. With raw honesty, she spilled the truth about a lifetime of moments that were punctuated by pain yet permeated with grace--and the journey that brought her to where she is today.

Now the New York Times bestselling author brings her incredible life story directly to teen girls, baring her soul about her struggles in order to show them how to find hope even in the most difficult circumstances. Pattie has more than a million Twitter followers, many of whom call her their second mom, and this edition is poised to change the lives of Pattie's teen fans.
- Publisher


Meet the Authors
Pattie Mallette
Pattie Mallette, known to most of the world as Justin Bieber's mom, is so much more than the mother of a world-renowned pop sensation. As a young woman and a single mom, she overcame unimaginable obstacles and fought hard to rise above a life of poverty. Pattie has guided her talented son through the winding journey of fame, instilling faith and wisdom every step of the way. She is impassioned by her vision to share what she has learned from the experiences of her youth and her son's journey. Follow her on Twitter (@pattiemallette).
A J Gregory
A. J. Gregory is an accomplished freelance writer who has helped author seven books. Thought-provoking and meditative, Gregory is not afraid to seek out and expose the truth of the inner life--the good, bad, and ugly. Through asking the tough questions, her transparency is honest, refreshing, and painfully revealing. Messy Faith is her groundbreaking attempt at finding some equilibrium between spirituality and the realities of life. She is a member of The Life Christian Church, a seeker-friendly congregation located in a suburb of New York City.