Objects of His Affection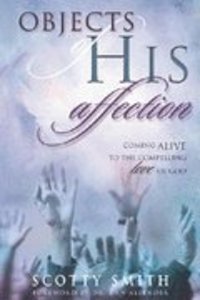 1. The Restlessness Begins2. God's Great Delight3. Blind Men Seeing4. The Power Of Life And Death5. The Longings Of A Thirsty Soul6. The Severity Of God's Mercy7. Your Story Of God's Love8. The Love Of Suffering9. Obstacles To Intimacy10. Life As The Beloved220 Pages

- Publisher In this compelling book by a bestselling author, readers can discover the fascinating, far-reaching passion that burns for them within the heart of God. Smith's own journey to a relationship style that knows the delight and freedom of the love of God can guide readers as they break through barriers that hinder their relationships both in heaven and on earth.

- Publisher
You May Also Be Interested In
About "Objects of His Affection"
1. The Restlessness Begins2. God's Great Delight3. Blind Men Seeing4. The Power Of Life And Death5. The Longings Of A Thirsty Soul6. The Severity Of God's Mercy7. Your Story Of God's Love8. The Love Of Suffering9. Obstacles To Intimacy10. Life As The Beloved220 Pages
- Publisher

In this compelling book by a bestselling author, readers can discover the fascinating, far-reaching passion that burns for them within the heart of God. Smith's own journey to a relationship style that knows the delight and freedom of the love of God can guide readers as they break through barriers that hinder their relationships both in heaven and on earth.
- Publisher


Meet the Author
Scotty Smith
Scotty Smith serves as senior pastor of Christ Community Church in Franklin Tennessee, a church that he and five other couples planted and which now has more than 4,000 members. Scotty is the author of the bestseller, "Objects of His Affection", and has coauthored "Speechless" with Steven Curtis Chapman, and "Unveiled Hope" with Michael Card. He and his wife, Darlene, have been married twenty-seven years and have two children, Scott and Kristin.