Ocean Adventures (Nature Of God Series)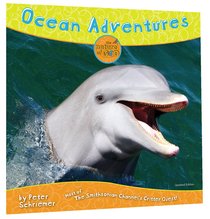 Uncover the Mysteries of the Hawaiian Islands Giant humpback whales, squishy sea cucumbers, color-changing lizards, and spiders with smiley faces on their backs---they all live in a beautiful place called the Hawaiian Islands, surrounded by the Pacific Ocean. Learn about these amazing creatures and many more in this newly revised version of Ocean Adventures. Find out about God's fascinating creation and how he made each one for a purpose all its own.

- Publisher
Also Available In
You May Also Be Interested In
About "Ocean Adventures (Nature Of God Series)"
Uncover the Mysteries of the Hawaiian Islands Giant humpback whales, squishy sea cucumbers, color-changing lizards, and spiders with smiley faces on their backs---they all live in a beautiful place called the Hawaiian Islands, surrounded by the Pacific Ocean. Learn about these amazing creatures and many more in this newly revised version of Ocean Adventures. Find out about God's fascinating creation and how he made each one for a purpose all its own.
- Publisher


Meet the Author
Schriemer Peter
Having created, written and produced many of his own projects as well as having worked on national video projects, Peter Schriemer is an award winning filmmaker who has received more than fifteen prestigious industry awards. Being America's hands-on naturalist, Peter enjoys exploring outside, assisting field biologists with research projects, and teaching children about God's wondrous creation. Peter received his B.A. in Film and Video Studies from the University of Michigan in 2005 and now resides in Ann Arbor, Michigan.
Other Titles In The "Nature Of God" Series View All