Of God and Men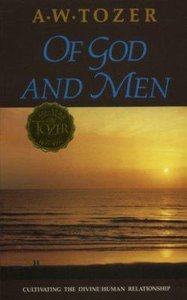 Tozer himself compiled this collection of editorials. One essay entitled "We Need Men of God Again" sums up the point of the work: "We languish for men who feel themselves expendable in the warfare of the soul...their only compulsion coming from within -- or from above". Thirty-nine chapters in all.

- Publisher Men and women actually becoming like God - is it possible? And if it is, how can it be accomplished? In the chapters that follow, Tozer elaborates on the relationship between God and His people and spurs readers on to Christlike practices. This series of editorials, arranged and edited by Tozer himself, covers such topics as confronting everyday problems, adjusting attitudes, developing discernment and eliminating lethargy in the Church. Be prepared to be challenged and to walk away changed!

- Publisher
You May Also Be Interested In
About "Of God and Men"
Tozer himself compiled this collection of editorials. One essay entitled "We Need Men of God Again" sums up the point of the work: "We languish for men who feel themselves expendable in the warfare of the soul...their only compulsion coming from within -- or from above". Thirty-nine chapters in all.
- Publisher

Men and women actually becoming like God - is it possible? And if it is, how can it be accomplished? In the chapters that follow, Tozer elaborates on the relationship between God and His people and spurs readers on to Christlike practices. This series of editorials, arranged and edited by Tozer himself, covers such topics as confronting everyday problems, adjusting attitudes, developing discernment and eliminating lethargy in the Church. Be prepared to be challenged and to walk away changed!
- Publisher


Meet the Author
A W Tozer
A. W. Tozer died in 1963, but his life and spiritual legacy continue to draw many into a deeper knowledge of God. During his lifetime, Tozer pastored several Christian and Missionary Alliance churches. Missions and the deeper life in Christ were his primary focus. He also served as editor of the Alliance Life. Tozer authored more than 40 books, (at least two of which are considered classics: The Pursuit of God and Knowledge of the Holy), a tremendous accomplishment for a man who never received a formal theological education. The presence of God was his classroom, his notebooks and tools consisted of prayer, God's Word, and the writings of early Christians and theologians, the Puritans, and great men of faith. - Publisher.