On Earth as It is in Heaven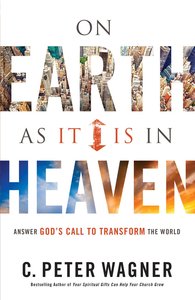 There has been an intense and growing debate in recent years regarding "dominionism" and what it means for Christians' involvement in business, politics, education, entertainment and other realms of societal influence. Now Dr. Peter Wagner brings Spirit-inspired clarity to the conversation with this essential guide for believers who want to impact our world for God's kingdom. This invaluable study examines powerful strategies God has revealed to His people in recent days and answers persistent questions with clear, biblical wisdom: Is wealth a legitimate tool of the church? How do today's workplace apostles lead in spiritual battle? Does God allow His people to make some decisions about the future? How is dominion theology operational in our world today? This groundbreaking study lays a biblical, theological and inspirational foundation for the mandate God has given His people.

- Publisher
You May Also Be Interested In
About "On Earth as It is in Heaven"
There has been an intense and growing debate in recent years regarding "dominionism" and what it means for Christians' involvement in business, politics, education, entertainment and other realms of societal influence. Now Dr. Peter Wagner brings Spirit-inspired clarity to the conversation with this essential guide for believers who want to impact our world for God's kingdom. This invaluable study examines powerful strategies God has revealed to His people in recent days and answers persistent questions with clear, biblical wisdom: Is wealth a legitimate tool of the church? How do today's workplace apostles lead in spiritual battle? Does God allow His people to make some decisions about the future? How is dominion theology operational in our world today? This groundbreaking study lays a biblical, theological and inspirational foundation for the mandate God has given His people.
- Publisher


Meet the Author
C Peter Wagner
Dr. C. Peter Wagner is the President of the Global Harvest Ministries and Chancellor of the Wagner Leadership Institute (established in 1998). Prior to this, Wagner and his wife served as missionaries in Bolivia, and from 1971, he was Professor of Church Growth at Fuller Theological Seminary School of World Missions and served on several mission oriented committees and organizations such as Lausanne Committee for World Evangelization and American Society of Missiology.
Wagner has also been associated with several global movements of the Holy Spirit. His outspoken advocacy of praying for the sick, spiritual mapping, identificational repentance, the ministry and role of apostles and prophets in the church today, and demonic deliverance have identified Peter as a pioneer in the arena of spiritual warfare. Perhaps his most significant contribution so far has been his relentless effort to promote strategic and effective prayer.
Wagner has written over 60 books. Those currently in print include: Your Spiritual Gifts Can Help Your Church Grow, Strategies for Church Growth, How to Have a Healing Ministry, Prayer Warrior Series, and Churchquake!
-Editorial Review.