On Hummingbird Wings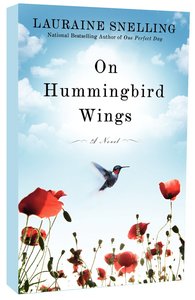 "But Mother is always dying," is Gillian Ormsby's sarcastic response when her younger, favored sister tells her that she has to go take care of their hypochondriac mother. Much against her will, since she and her mother never have gotten along, Gillian arrives in California to find the garden and yard dead, the blinds all drawn, and her mother indeed in bed--waiting to die. But when Gillian talks with the doctor, he assures her there's no medical reason behind her mother's state.
Now on a mission to restore her mother to health, Gillian insists Mother get out of bed, eat, exercise and hopefully, choose to live. She also sets about reviving the garden to its former glory, enlisting the help of Adam, a handsome man who owns a family gardening business with his father. Gillian is delighted when a pair of hummingbirds appear, and her friendship with Adam grows.
Soon, Mother's health improves, and one day she announces she and her friend Enzio are going on a cruise. Before Gillian has time to turn around, her mother is gone and she is left high and dry again, and wondering, what is she going to do with the rest of her own life?



- Publisher
You May Also Be Interested In
About "On Hummingbird Wings"
"But Mother is always dying," is Gillian Ormsby's sarcastic response when her younger, favored sister tells her that she has to go take care of their hypochondriac mother. Much against her will, since she and her mother never have gotten along, Gillian arrives in California to find the garden and yard dead, the blinds all drawn, and her mother indeed in bed--waiting to die. But when Gillian talks with the doctor, he assures her there's no medical reason behind her mother's state.
Now on a mission to restore her mother to health, Gillian insists Mother get out of bed, eat, exercise and hopefully, choose to live. She also sets about reviving the garden to its former glory, enlisting the help of Adam, a handsome man who owns a family gardening business with his father. Gillian is delighted when a pair of hummingbirds appear, and her friendship with Adam grows.
Soon, Mother's health improves, and one day she announces she and her friend Enzio are going on a cruise. Before Gillian has time to turn around, her mother is gone and she is left high and dry again, and wondering, what is she going to do with the rest of her own life?


- Publisher


Meet the Author
Lauraine Snelling
Lauraine Snelling is an award-winning author of over 50 books including The Healing Quilt, The Way of Women, and Saturday Morning. The recipient of the Silver Angel Award and a Romance Writers of America Golden Heart, she also writes for a wide range of magazines and teaches at writers' conferences across the country. She and her husband make their home in Tehachapi, California.
-Publisher.