On the Mountain of the Lord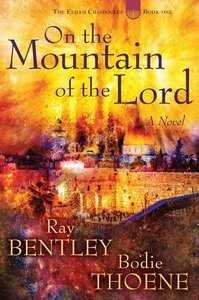 "On the Mountain of the Lord is a thriller, superimposed over Biblical prophecy, history, and geography … I'm already looking forward to their next novel."-Anne Graham Lotz

"On the Mountain of the Lord … takes you on an amazing journey … you will feel the connection as you are being drawn in, being reconnected to the Promised Land and the people of Israel."-Mark Blitz, bestselling author and founder of El Shaddai Ministries

"A remarkable and memorable plot line. Absolutely love it! Rosenberg, look out!"-Lloyd Pulley, pastor, author, and host of Bridging the Gap radio program



Submerged in doubt after a brutal car accident ripped his wife, child, and faith from him, Dr. Jack Garrison travels to Israel on a fact-finding mission. When he begins to experience inexplicable visions within hours of landing, he knows he's in over his head.

Join Dr. Garrison as he teams up with longtime friend Lev and a dauntless female Israeli Border Police officer to battle a furtive yet deadly enemy. His journey will take him from the city streets of London to the furthest shores of the Mediterranean as he's forced to confront his doubts and accept the astonishing possibility that he is witnessing an ancient prophecy unfold.

Watch history, prophecy, and current events leap to life as best-selling author Bodie Thoene and prophecy scholar Ray Bentley lead you on a journey that melds the past, present, and future into one unforgettable story.

- Publisher
You May Also Be Interested In
About "On the Mountain of the Lord"
"On the Mountain of the Lord is a thriller, superimposed over Biblical prophecy, history, and geography … I'm already looking forward to their next novel."-Anne Graham Lotz

"On the Mountain of the Lord … takes you on an amazing journey … you will feel the connection as you are being drawn in, being reconnected to the Promised Land and the people of Israel."-Mark Blitz, bestselling author and founder of El Shaddai Ministries

"A remarkable and memorable plot line. Absolutely love it! Rosenberg, look out!"-Lloyd Pulley, pastor, author, and host of Bridging the Gap radio program



Submerged in doubt after a brutal car accident ripped his wife, child, and faith from him, Dr. Jack Garrison travels to Israel on a fact-finding mission. When he begins to experience inexplicable visions within hours of landing, he knows he's in over his head.

Join Dr. Garrison as he teams up with longtime friend Lev and a dauntless female Israeli Border Police officer to battle a furtive yet deadly enemy. His journey will take him from the city streets of London to the furthest shores of the Mediterranean as he's forced to confront his doubts and accept the astonishing possibility that he is witnessing an ancient prophecy unfold.

Watch history, prophecy, and current events leap to life as best-selling author Bodie Thoene and prophecy scholar Ray Bentley lead you on a journey that melds the past, present, and future into one unforgettable story.
- Publisher


Meet the Authors
Ray Bentley
RAY BENTLEY's close ties with Israelis and Palestinians have given him a rare insider's perspective on the involvement of Jews, Arabs, and Christians in the events to come. A popular speaker, Bentley's feet-on-the-ground approach brings life and surprising insights to the study of ancient prophecies. The founding pastor of Maranatha Chapel near San Diego, he also hosts the daily Maranatha Radio program, broadcast nationally.
Bodie Thoene
Bodie and Brock Thoene (pronounced Tay-nee) have written over 45 works of historical fiction. That these best sellers have sold more than 10 million copies and won eight ECPA Gold Medallion Awards affirms what millions of readers have already discoveredthe Thoenes are not only master stylists but experts at capturing readers minds and hearts. Bodie has degrees in journalism and communications. Brock has often been described by Bodie as an essential half of this writing team. With degrees in both history and education, Brock has, in his role as researcher and story-line consultant, added the vital dimension of historical accuracy. Due to such careful research, The Zion Covenant and The Zion Chronicles series are recognized by the American Library Association, as well as Zionist libraries around the world, as classic historical novels and are used to teach history in college classrooms. Bodie and Brock have four grown children - Rachel, Jake, Luke, and Ellie - and five grandchildren. Their sons, Jake and Luke, are carrying on the Thoene family talent as the next generation of writers, and Luke produces the Thoene audiobooks. Bodie and Brock divide their time between London and Nevada.- Publisher.