One Shining Moment (#03 in American Century Series)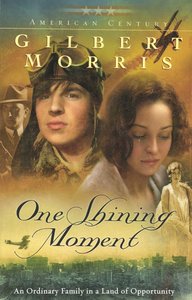 The war in Europe is over and a new feeling of freedom is sweeping across America. The skirts are getting shorter, the women are getting faster, and the Stuart family is caught up in a sea of changes.

From the Arkansas hills to the streets of Chicago, with a stop off in Hollywood on the way, One Shining Moment will hold readers in its mesmerizing grip. From daring cross-country flights to seedy speakeasies to the Salvation Army headquarters, the Stuarts cross paths with the likes of Louis Armstrong, Rudolph Valentino, and Al Capone himself while they chase their dreams--and try to stay alive! Can the Stuart family survive in this country turned upside down?

- Publisher
You May Also Be Interested In
About "One Shining Moment (#03 in American Century Series)"
The war in Europe is over and a new feeling of freedom is sweeping across America. The skirts are getting shorter, the women are getting faster, and the Stuart family is caught up in a sea of changes.

From the Arkansas hills to the streets of Chicago, with a stop off in Hollywood on the way, One Shining Moment will hold readers in its mesmerizing grip. From daring cross-country flights to seedy speakeasies to the Salvation Army headquarters, the Stuarts cross paths with the likes of Louis Armstrong, Rudolph Valentino, and Al Capone himself while they chase their dreams--and try to stay alive! Can the Stuart family survive in this country turned upside down?
- Publisher


Meet the Author
Gilbert Morris
Gilbert Morris is one of todays best-known Christian novelists, specialising in historical fiction. His best-selling works include Edge of Honor (winner of a Christy Award in 2001), Jacobs Way, the House of Winslow series, the Appomattox series, and The Wakefield Saga. He lives in Gulf Shores, Alabama, with his wife, Johnnie. - Publisher.
Other Titles In The "American Century Series" Series View All