Oops (#03 in Tj And The Time Stumblers Series)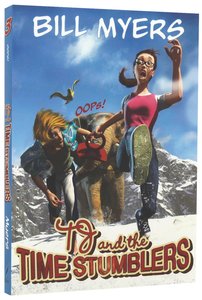 The mishaps never end as TJ?s ?helpers? from the 23rd century?Tuna and Herby?continue to study TJ as she learns the valuable lessons she?ll need to become a future world leader. In Oops!, TJ learns the importance of speaking and thinking well of people even when they are difficult, thanks to the Thought Broadcaster Pen, which exposes the thoughts of everyone it hits. As usual, Tuna and Herby?s attempts to fix the pen only make things worse?now all of TJ?s thoughts become reality! As she fights not to return meanness to others (and to clean up the disasters her thoughts cause, like turning whiny TV star Hesper Breakahart into a giant baby), TJ learns from her dad a little more about how her mother handled things: She kept reminding herself that each of us is God?s creation. And no matter how mean people may be, we all need to be loved. The same message also unfolds through a side story of classmate Chad Steel learning to treat a mean boy better.

- Publisher
You May Also Be Interested In
About "Oops (#03 in Tj And The Time Stumblers Series)"
The mishaps never end as TJ?s ?helpers? from the 23rd century?Tuna and Herby?continue to study TJ as she learns the valuable lessons she?ll need to become a future world leader. In Oops!, TJ learns the importance of speaking and thinking well of people even when they are difficult, thanks to the Thought Broadcaster Pen, which exposes the thoughts of everyone it hits. As usual, Tuna and Herby?s attempts to fix the pen only make things worse?now all of TJ?s thoughts become reality! As she fights not to return meanness to others (and to clean up the disasters her thoughts cause, like turning whiny TV star Hesper Breakahart into a giant baby), TJ learns from her dad a little more about how her mother handled things: She kept reminding herself that each of us is God?s creation. And no matter how mean people may be, we all need to be loved. The same message also unfolds through a side story of classmate Chad Steel learning to treat a mean boy better.
- Publisher


Meet the Author
Bill Myers
Bill Myers is the author of the humorously imaginative The Incredible Worlds of Wally McDoogle series, which currently numbers 27 episodes and over 2.1 million units sold. He is also the creator and writer of the McGee and Me! video/dvd series. Myers is a director as well as a writer, and his films have won over forty national and international awards. He has written more than 50 books for kids, teens, and adults. Myer's work is enjoyed by millions around the world. He lives with his wife and two daughters in Southern California.- Publisher.
Other Titles In The "Tj And The Time Stumblers" Series View All