Opening Paul's Letters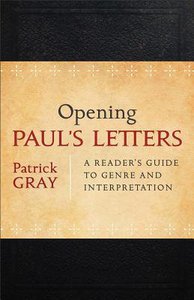 An experienced teacher provides an accessible textbook on the Pauline letters that orients beginning students to the genre in which Paul writes.

- Publisher It is sometimes easy to forget that the books of the Bible are not really "books" at all but individual documents composed in a wide array of literary genres. This clear, concise, and accessible text on the Pauline Letters orients beginning students to the genre in which Paul writes. The book compares and contrasts Paul's letters with ancient and modern letters, revealing the distinctive conventions, forms, and purposes of Paul's Epistles. It focuses on the literary genre of the letter in ancient Greece and Rome, providing an overview of subjects, strategies, and concerns of immediate relevance for readers who wish to understand Paul in his ancient context. Discussion questions and sidebars are included.

- Publisher
You May Also Be Interested In
About "Opening Paul's Letters"
An experienced teacher provides an accessible textbook on the Pauline letters that orients beginning students to the genre in which Paul writes.
- Publisher

It is sometimes easy to forget that the books of the Bible are not really "books" at all but individual documents composed in a wide array of literary genres. This clear, concise, and accessible text on the Pauline Letters orients beginning students to the genre in which Paul writes. The book compares and contrasts Paul's letters with ancient and modern letters, revealing the distinctive conventions, forms, and purposes of Paul's Epistles. It focuses on the literary genre of the letter in ancient Greece and Rome, providing an overview of subjects, strategies, and concerns of immediate relevance for readers who wish to understand Paul in his ancient context. Discussion questions and sidebars are included.
- Publisher


Meet the Author
Patrick Gray
Patrick Gray is the founder and President of the Prevoyance Group Inc., a company that focuses on providing IT strategy consulting, with past clients including Gillette, Pitney Bowes, OfficeMax, and several other Fortune 500 and 1000 companies. His recent work has focused on international projects, and he has led implementations for foreign subsidiaries of several U.S. companies. He has published several articles and has been quoted numerous times in major publications such as the "New York Times," "InfoWorld," "Project Manager Today," "CIO India," "American Way," and "Business 2.0,"
Table Of Contents
Introduction
1. Paul's Cultural Contexts
2. Letter Genres
3. How Paul Writes: Organizing A Letter And Making An Argument
4. Paul's Audiences
5. How Paul Reads The Old Testament
6. Pseudonymity: Did Paul Write Paul's Letters?
epilogue: Beyond Paul
appendix 1: Dating Paul's Letters
appendix 2: Defining Authorship
indexes