Orchard of Hope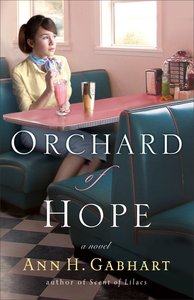 It is 1964, and 14-year-old Jocie Brooke is about to have an unforgettable summer. Her father has found a new love, her hippie sister is about to have a baby, and her aunt is finally pleasurable to live with. But, when a black family from Chicago moves into the quiet hamlet of Holly County, Kentucky, Jocie finds herself befriending a boy that some townspeople shun. Due to the unspoken racial lines in this southern town, the presence of these newcomers sparks a smoldering fire of unrest that will change Holly County--and Jocie--forever.
Orchard of Hope, the riveting sequel to The Scent of Lilacs, takes readers along to experience unexpected love, fear, forgiveness, new life, and a deeper understanding of the value of each individual's story.

- Publisher
Also Available In
You May Also Be Interested In
About "Orchard of Hope"
It is 1964, and 14-year-old Jocie Brooke is about to have an unforgettable summer. Her father has found a new love, her hippie sister is about to have a baby, and her aunt is finally pleasurable to live with. But, when a black family from Chicago moves into the quiet hamlet of Holly County, Kentucky, Jocie finds herself befriending a boy that some townspeople shun. Due to the unspoken racial lines in this southern town, the presence of these newcomers sparks a smoldering fire of unrest that will change Holly County--and Jocie--forever.
Orchard of Hope, the riveting sequel to The Scent of Lilacs, takes readers along to experience unexpected love, fear, forgiveness, new life, and a deeper understanding of the value of each individual's story.
- Publisher


Meet the Author
Ann H Gabhart
Ann H. Gabhart has published a number of adult and young adult novels with several publishers. The author of The Scent of Lilacs and Orchard of Hope, Ann lives with her husband a mile from where she was born in Lawrenceburg, Kentucky.