Oswald - Return of the King (#02 in The Northumbrian Thrones Series)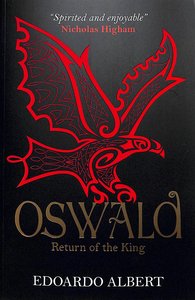 $

14.99

$

11.99
You Save: $3.00 (20%)
Paperback
The exiled family of King Aethelfrith of Northumbria arrive, after much hardship, on the island of Iona, where the monastery founded by St Columba has become a centre of worship and learning. Young Oswald becomes firm friends with a novice, Aidan. When Aidan professes his final vows, Oswald and his little brother Oswiu are received into the church. As befits a young prince, Oswald learns to fight. However, Aidan's example attracts him and he is on the point of deciding to become a monk when news reaches Iona that his half brother, Eanfrith, has been killed by Cadwallon, the king who defeated Edwin. Oswald sails back to Northumbria and meets Cadwallon in battle, defeating and killing him. Oswald, now undisputed king of Northumbria, gives Aidan the island of Lindisfarne as his base. But Penda, the last great pagan king in England, is raising troops against him.

- Publisher
You May Also Be Interested In
About "Oswald - Return of the King (#02 in The Northumbrian Thrones Series)"
The exiled family of King Aethelfrith of Northumbria arrive, after much hardship, on the island of Iona, where the monastery founded by St Columba has become a centre of worship and learning. Young Oswald becomes firm friends with a novice, Aidan. When Aidan professes his final vows, Oswald and his little brother Oswiu are received into the church. As befits a young prince, Oswald learns to fight. However, Aidan's example attracts him and he is on the point of deciding to become a monk when news reaches Iona that his half brother, Eanfrith, has been killed by Cadwallon, the king who defeated Edwin. Oswald sails back to Northumbria and meets Cadwallon in battle, defeating and killing him. Oswald, now undisputed king of Northumbria, gives Aidan the island of Lindisfarne as his base. But Penda, the last great pagan king in England, is raising troops against him.
- Publisher


Meet the Author
Edoardo Albert
Edoardo Albert is a writer and editor whose work has appeared in<i Time Out, History Today</i , and <i The Daily Telegraph</i , among otherpublications. Edoardo has previously coauthored a book on historyand archaeology entitled <i Northumbria: The Lost Kingdom</i .A keen cyclist, he also edited the <i Time Out Cycle London Guide</i .
Other Titles In The "The Northumbrian Thrones Series" Series