Our Awesome God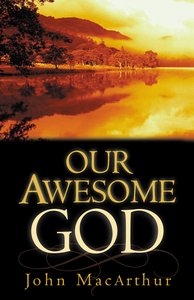 The pursuit of a deeper personal knowledge of the God who created us is the most worthy of all ambitions. But centuries of cultural influences prevent us from seeing Him as He really is.In "Our Awesome God", John MacArthur lifts the blinders from our eyes, allowing us to focus on our Creator's face. As this respected pastor and author points out our misperceptions, we will witness the glory and majesty of the divine attributes through the eyes of the prophets, kings, mighty men of faith and God's own Son, Jesus Christ.Packed with Scripture references and day-to-day applications, this fascinating book will help readers in their pursuit of perceiving, recognizing and understanding the wonders of God's person more strongly and clearly. And the result will be a deeper, more intimate knowledge of Him.

- Publisher 192 Pages

- Publisher Don't get me wrong. My coworker Betty was truly a good person. She was hard-working and would always help out anyone who needed her. And I avoided her like the plague.You're probably wondering why I tried to stay away from Betty if she was such a nice person. The answer is simple: Betty was always unhappy. She fussed about everything-from the food she ate, to the weather outside. Nothing ever suited Betty, and her continual complaining bothered everyone around her.Besides bothering other people, unhappiness is actually bad for us. Numerous studies have proven that our outlook on life affects our physical being. Long-term stress and anxiety lower our immune system and leave us open to all kinds of illnesses. The wisdom of Proverbs tells us that "a joyful heart is good medicine, but a crushed spirit dries up the bones" (Proverbs 17:22).God doesn't want us to lead frustrated, miserable lives. He wants us to be full of the joy of the Holy Spirit. Proverbs also states, "The cheerful of heart has a continual feast" (Proverbs 15:15).To have your heart filled with happiness would be like a dream come true, wouldn't it? Are you wondering how you can tap into this joy for yourself? There are a number of clues in the Bible on how to go about being joyful.First of all, joy will come to us as we search for God: "May all who seek you rejoice and be glad in you" (Psalm 40:16). And there is only one way to find Him. Jesus said, "I am the way, and the truth, and the life. No one comes to the Father except through me" (John 14:6). When we recognize that Jesus Christ is the unique Son of God, who suffered and died on a cross as our substitute, and accept him as our personal Savior, we are assured, "In your presence there is fullness of joy" (Psalm 16:11). Of course, this doesn't mean that life will always be easy and trouble-free. But God will give us a foretaste of the joy that we will someday know in Heaven.Secondly, staying close to the Lord brings us peace and happiness. "I have set the Lord always before me....Therefore my heart is glad" (Psalm l6:8-9). Galatians 5:22-23 tells us that when we are led by the Holy Spirit, He will produce this kind of fruit in us: "love, joy, peace, patience, kindness, goodness, faithfulness, gentleness, self-control." All this spiritual fruit, including joy, certainly makes living in our modern fast-paced society a whole lot easier.And then we must trust Him. "Let all who take refuge in you rejoice; let them ever sing for joy" (Psalm 5:11) "Blessed is he who trusts in the Lord" (Proverbs 16:20). "The Lord is my strength and my shield; in him my heart trusts, and I am helped; my heart exults, and with my song I give thanks to him" (Psalm 28:7).Finally, to continue to be happy, we should live our lives in a way that is pleasing to Him. "The righteous shall be glad" (Psalm 68:3).Finding God and keeping close to Him, trusting He will care for us and obeying Him-all in all, not too steep a price to pay for a heart that is filled with joy. Just imagine how wonderful it would be to wake up each morning and start the new day with the thought, "This is the day that the Lord has made; let us rejoice and be glad in it" (Psalm 118:24). Couple that with, "The joy of the Lord is your strength" (Nehemiah 8:10), and you can confidently face whatever the day brings.Are you ready to seek God and find the joy that knowing Him will bring into your life? It's an easy thing to do because He is there waiting for you to come to Him. Romans 10:13 tells us that "everyone who calls on the name of the Lord will be saved." So admit you've sinned-"for all have sinned and fall short of the glory of God" (Romans 3:23)-

- Publisher
You May Also Be Interested In
About "Our Awesome God"
The pursuit of a deeper personal knowledge of the God who created us is the most worthy of all ambitions. But centuries of cultural influences prevent us from seeing Him as He really is.In "Our Awesome God", John MacArthur lifts the blinders from our eyes, allowing us to focus on our Creator's face. As this respected pastor and author points out our misperceptions, we will witness the glory and majesty of the divine attributes through the eyes of the prophets, kings, mighty men of faith and God's own Son, Jesus Christ.Packed with Scripture references and day-to-day applications, this fascinating book will help readers in their pursuit of perceiving, recognizing and understanding the wonders of God's person more strongly and clearly. And the result will be a deeper, more intimate knowledge of Him.
- Publisher

192 Pages
- Publisher

Don't get me wrong. My coworker Betty was truly a good person. She was hard-working and would always help out anyone who needed her. And I avoided her like the plague.You're probably wondering why I tried to stay away from Betty if she was such a nice person. The answer is simple: Betty was always unhappy. She fussed about everything-from the food she ate, to the weather outside. Nothing ever suited Betty, and her continual complaining bothered everyone around her.Besides bothering other people, unhappiness is actually bad for us. Numerous studies have proven that our outlook on life affects our physical being. Long-term stress and anxiety lower our immune system and leave us open to all kinds of illnesses. The wisdom of Proverbs tells us that "a joyful heart is good medicine, but a crushed spirit dries up the bones" (Proverbs 17:22).God doesn't want us to lead frustrated, miserable lives. He wants us to be full of the joy of the Holy Spirit. Proverbs also states, "The cheerful of heart has a continual feast" (Proverbs 15:15).To have your heart filled with happiness would be like a dream come true, wouldn't it? Are you wondering how you can tap into this joy for yourself? There are a number of clues in the Bible on how to go about being joyful.First of all, joy will come to us as we search for God: "May all who seek you rejoice and be glad in you" (Psalm 40:16). And there is only one way to find Him. Jesus said, "I am the way, and the truth, and the life. No one comes to the Father except through me" (John 14:6). When we recognize that Jesus Christ is the unique Son of God, who suffered and died on a cross as our substitute, and accept him as our personal Savior, we are assured, "In your presence there is fullness of joy" (Psalm 16:11). Of course, this doesn't mean that life will always be easy and trouble-free. But God will give us a foretaste of the joy that we will someday know in Heaven.Secondly, staying close to the Lord brings us peace and happiness. "I have set the Lord always before me....Therefore my heart is glad" (Psalm l6:8-9). Galatians 5:22-23 tells us that when we are led by the Holy Spirit, He will produce this kind of fruit in us: "love, joy, peace, patience, kindness, goodness, faithfulness, gentleness, self-control." All this spiritual fruit, including joy, certainly makes living in our modern fast-paced society a whole lot easier.And then we must trust Him. "Let all who take refuge in you rejoice; let them ever sing for joy" (Psalm 5:11) "Blessed is he who trusts in the Lord" (Proverbs 16:20). "The Lord is my strength and my shield; in him my heart trusts, and I am helped; my heart exults, and with my song I give thanks to him" (Psalm 28:7).Finally, to continue to be happy, we should live our lives in a way that is pleasing to Him. "The righteous shall be glad" (Psalm 68:3).Finding God and keeping close to Him, trusting He will care for us and obeying Him-all in all, not too steep a price to pay for a heart that is filled with joy. Just imagine how wonderful it would be to wake up each morning and start the new day with the thought, "This is the day that the Lord has made; let us rejoice and be glad in it" (Psalm 118:24). Couple that with, "The joy of the Lord is your strength" (Nehemiah 8:10), and you can confidently face whatever the day brings.Are you ready to seek God and find the joy that knowing Him will bring into your life? It's an easy thing to do because He is there waiting for you to come to Him. Romans 10:13 tells us that "everyone who calls on the name of the Lord will be saved." So admit you've sinned-"for all have sinned and fall short of the glory of God" (Romans 3:23)-
- Publisher


Meet the Author
John Macarthur
John MacArthur, the author of numerous best selling books that have touched millions of lives, is pastor-teacher of Grace Community Church in Sun Valley, California and president of The Master's College and Seminary. He is also president of Grace to You, the ministry that produces the international radio program Grace to You and a host of print, audio, and Internet resources. He authored the notes in the Gold Medallion Award-winning The MacArthur Study Bible. John and his wife, Patricia, have four children who have given them thirteen grandchildren.- Publisher.