Ours For a Season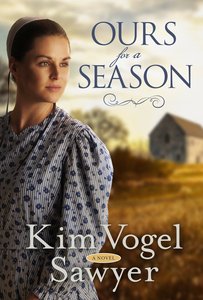 :An Old Order Mennonite couple's vows and beliefs are challenged in this stirring contemporary novel for fans of Cindy Woodsmall or Shelley Shepherd Gray.

Anthony and Marty Hirschler are part of an Old Order Mennonite community in Pine Hill, Indiana. The couple has grown apart since a doctor confirmed they would never have children. Marty longs to escape the tight-knit area where large families are valued, and the opportunity to do so arises when her childhood friend, Brooke Spalding, resurfaces with the wild idea of rebuilding a ghost town into a resort community. Brooke hires Anthony to help with the construction, drawing the Hirschlers away from Indiana and into her plan, and then finds herself diagnosed with cancer. Moral complications with Brooke's vision for a casino as part of the resort and the discovery of a runaway teenager hiding on the property open up a world neither the Hirschlers nor Brooke had considered before. Will they be able to overcome their challenges and differences to help the ones among them hurting the most?

- Publisher
You May Also Be Interested In
About "Ours For a Season"
:An Old Order Mennonite couple's vows and beliefs are challenged in this stirring contemporary novel for fans of Cindy Woodsmall or Shelley Shepherd Gray.

Anthony and Marty Hirschler are part of an Old Order Mennonite community in Pine Hill, Indiana. The couple has grown apart since a doctor confirmed they would never have children. Marty longs to escape the tight-knit area where large families are valued, and the opportunity to do so arises when her childhood friend, Brooke Spalding, resurfaces with the wild idea of rebuilding a ghost town into a resort community. Brooke hires Anthony to help with the construction, drawing the Hirschlers away from Indiana and into her plan, and then finds herself diagnosed with cancer. Moral complications with Brooke's vision for a casino as part of the resort and the discovery of a runaway teenager hiding on the property open up a world neither the Hirschlers nor Brooke had considered before. Will they be able to overcome their challenges and differences to help the ones among them hurting the most?
- Publisher


Meet the Author
Kim Vogel Sawyer
Bestselling, award-winning author Kim Vogel Sawyer wears many hats besides 'writer.' As a wife, mother, grandmother, and active participant in her church, her life is happily full. But Kim's passion lies in writing stories of hope that encourage her readers to place their lives in God's capable hands. An active speaking ministry assists her with her desire. Kim and her husband make their home on the beautiful plains of Kansas, the setting for many of Kim's novels.
Excerpt
Excerpt from: Ours For a Season
:
1
Pine Hill, Indiana
Marty Krieger Hirschler
Marty followed her husband to the front door, keeping enough distance between them to prevent bumping her knee against the bulky suitcase that hung from his hand. Anthony gripped the battered case&'s handle hard. Angrily hard. So hard the tendons stood out on the back of his hand. She stared at the discernible ridges and wished his angst were for the same reason as hers.
The carved front door&-one of Anthony&'s woodshop projects&-stood open, but the screen door sat firmly in its frame, the little hook latch secured to prevent the seemingly endless Indiana wind from bouncing the door against the casing. When Marty was a child and let the screen door smack into place, Mother always scolded, and Marty had determined early she wouldn&'t yell at her children for letting the screen door smack. Not that she&'d had the chance to honor the vow.
Anthony unlatched the hook with a flick of his finger and put his palm against the door&'s frame, but then he stood frozen, gazing outward. A question hovered on her lips&-Have you changed your mind about going? She tried to swallow the knot in her throat, but it r