Out of Control (#03 in Rachel Yoder - Always Trouble Somewhere Series)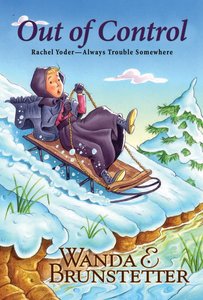 Ten-year-old Rachel is driving her Amish friends and family "buggy" with her lack of patience. Her attempts to control every situation bring her trouble at every turn - from sledding into a creek to scorching a yummy shoo-fly pie, to flunking a test in school, to being dragged facedown in the snow. Can Grandpa's wise words regarding patience get through to Rachel? Or will she spend the winter getting into more trouble than her Lancaster County family and schoolmates can handle? What will it take to teach Rachel that there are some things she just can't control?
<<br>

- Publisher
Also Available In
You May Also Be Interested In
About "Out of Control (#03 in Rachel Yoder - Always Trouble Somewhere Series)"
Ten-year-old Rachel is driving her Amish friends and family "buggy" with her lack of patience. Her attempts to control every situation bring her trouble at every turn - from sledding into a creek to scorching a yummy shoo-fly pie, to flunking a test in school, to being dragged facedown in the snow. Can Grandpa's wise words regarding patience get through to Rachel? Or will she spend the winter getting into more trouble than her Lancaster County family and schoolmates can handle? What will it take to teach Rachel that there are some things she just can't control?
<<br>
- Publisher


Meet the Author
Wanda E Brunstetter
"New York Times" bestselling author, Wanda E. Brunstetter became fascinated with the Amish way of life when she first visited her husband's Mennonite relatives living in Pennsylvania. Wanda and her husband, Richard, live in Washington State but take every opportunity to visit Amish settlements throughout the States, where they have several Amish friends.
Other Titles In The "Rachel Yoder - Always Trouble Somewhere" Series View All