Out of the Ashes (#02 in The Heart Of Alaska Series)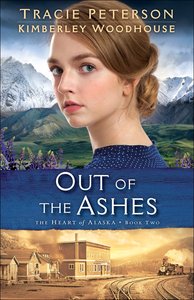 After the death of their father, Collette and Jean-Michel Langelier are no longer tied to post-war France. While his sister dreams of adventure, Jean-Michel is hoping to finally escape reminders of the horrors he faced in the war. When Jean-Michel receives an unexpected invitation for them to visit Alaska and the Curry Hotel, it seems an opportunity for a change he needs.

Katherine Demarchis is a young widow who does not grieve the dangerous husband she was forced to marry. Now she just wants to retreat to a quiet life, content to be alone. First, though, she's agreed to accompany her grandmother on a final trip, but never expects to see a man from her past.

Katherine and Jean-Michel once shared a deep love that was torn apart by forces beyond their control. Reunited now, have the years changed them too deeply to rediscover what they had? And when Jean-Michel's nightmares return with terrifying consequences, will faith be enough to heal what's been broken for so long?

- Publisher
You May Also Be Interested In
About "Out of the Ashes (#02 in The Heart Of Alaska Series)"
After the death of their father, Collette and Jean-Michel Langelier are no longer tied to post-war France. While his sister dreams of adventure, Jean-Michel is hoping to finally escape reminders of the horrors he faced in the war. When Jean-Michel receives an unexpected invitation for them to visit Alaska and the Curry Hotel, it seems an opportunity for a change he needs.

Katherine Demarchis is a young widow who does not grieve the dangerous husband she was forced to marry. Now she just wants to retreat to a quiet life, content to be alone. First, though, she's agreed to accompany her grandmother on a final trip, but never expects to see a man from her past.

Katherine and Jean-Michel once shared a deep love that was torn apart by forces beyond their control. Reunited now, have the years changed them too deeply to rediscover what they had? And when Jean-Michel's nightmares return with terrifying consequences, will faith be enough to heal what's been broken for so long?
- Publisher


Meet the Authors
Tracie Peterson
Tracie Peterson is a full-time author who has written or co-written over 60 novels in both historical and contemporary genres which regularly appear on the bestseller lists, including the WESTWARD CHRONICLES, the YUKON QUEST and the SHANNON SAGA series. Tracie also teaches writing workshops at a variety of conferences on subjects including inspirational romance and historical research. Tracie and her family live in Montana. - Publisher.
Kimberley Woodhouse
Kimberley Woodhouse is a multipublished author of fiction and nonfiction. A popular speaker/teacher, she's shared her theme of "Joy Through Trials" with over 150,000 people at more than a thousand venues across the country. She lives, writes, and homeschools with her husband of twenty-plus years and their two awesome teens in Colorado Springs, Colorado. Connect with Kim at www.kimberleywoodhouse.com.
Other Titles In The "The Heart Of Alaska Series" Series View All