Out of the Desert (#03 in All Things Are Possible Series)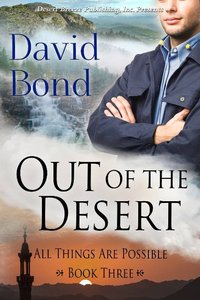 Joel Brenner, brother of Zach from The Attach?, after years of wandering, returns home to Rocky Glen, Pennsylvania. His plan is to capitalize on the local boom in natural gas production, and maybe even put down some roots. Monique Duvall may be petite, but she is a mighty warrior. Joel quickly becomes the focus of her prayer battles, and there are many. Joel suffers epileptic seizures. A problem he tries to ignore. A monumental snowstorm strands Joel and Monique together in a house where the deepening snow and howling winds mirror the developing personal conflicts. Monique knows she should resist her physical attraction to Joel, first because he is not a Christian, but worse, he is a Muslim. Joel struggles to find his way. Is Islam really the way to paradise? With the help of Monique's faith, guidance from a kind older man, and a miraculous display of the power of the Christian God over a dangerous Islamic fanatic, Joel will find out.

- Publisher
You May Also Be Interested In
About "Out of the Desert (#03 in All Things Are Possible Series)"
Joel Brenner, brother of Zach from The Attach?, after years of wandering, returns home to Rocky Glen, Pennsylvania. His plan is to capitalize on the local boom in natural gas production, and maybe even put down some roots. Monique Duvall may be petite, but she is a mighty warrior. Joel quickly becomes the focus of her prayer battles, and there are many. Joel suffers epileptic seizures. A problem he tries to ignore. A monumental snowstorm strands Joel and Monique together in a house where the deepening snow and howling winds mirror the developing personal conflicts. Monique knows she should resist her physical attraction to Joel, first because he is not a Christian, but worse, he is a Muslim. Joel struggles to find his way. Is Islam really the way to paradise? With the help of Monique's faith, guidance from a kind older man, and a miraculous display of the power of the Christian God over a dangerous Islamic fanatic, Joel will find out.
- Publisher


Meet the Author
David Bond
Like most writers, I love to read. As an appreciative reader, I've always been amazed at a well written book. Losing my eyesight at age 33 (in 1988) I had no idea I would one day discover writing to be an enjoyable career. I'm innately artistic, and writing is now a great outlet for my artistic creativity. My debut novel is about a man who loses his eyesight. I resisted writing about a blind character, but eventually knew it was the right thing to do. I have always enjoyed romance fiction, as long as the characters were believable, and the story had depth. I hope my stories will come across as believable, yet also convey something important about life. Since I write inspirational fiction, God plays a role in how my characters work through their conflicts and struggles. I'm married, and we have a teenage son. We live near Lancaster, Pennsylvania. I have always enjoyed the outdoors, including the mountains and wilderness of central and northern Pennsylvania. In my books, readers will catch glimpses of the things I cherish, and hopefully come away possessing a greater understanding or appreciation for some of the important things in life.