Outbreak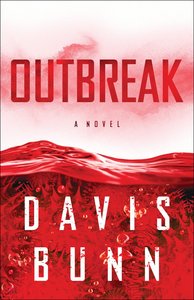 The waters off the West African coast are a menacing red, full of algae thick enough to stand on in places. In nearby villages, mysterious deaths start to occur--and the panic mounts. But before an alarm can be sounded, the sea currents shift, the algae vanishes, and the deaths stop. Everyone is relieved when things return to normal, and local government officials are happy to sweep the publicity nightmare under a rug.

An American biological researcher, Avery Madison, is dispatched by his employer to piece together exactly what happened, having long feared an ecological disaster just like this could occur. He's had little evidence to go on before now, and what he finds in West Africa is rapidly disappearing. But Avery knows the danger hasn't disappeared--it has just moved on.

When parts of the Caribbean start turning a familiar red right before hurricane season kicks into high gear, the implications are clear. If Avery and his colleagues can't convince the world of what's about to happen, toxic destruction could be loosed on American soil. Will their efforts prove too late?

- Publisher
You May Also Be Interested In
About "Outbreak"
The waters off the West African coast are a menacing red, full of algae thick enough to stand on in places. In nearby villages, mysterious deaths start to occur--and the panic mounts. But before an alarm can be sounded, the sea currents shift, the algae vanishes, and the deaths stop. Everyone is relieved when things return to normal, and local government officials are happy to sweep the publicity nightmare under a rug.

An American biological researcher, Avery Madison, is dispatched by his employer to piece together exactly what happened, having long feared an ecological disaster just like this could occur. He's had little evidence to go on before now, and what he finds in West Africa is rapidly disappearing. But Avery knows the danger hasn't disappeared--it has just moved on.

When parts of the Caribbean start turning a familiar red right before hurricane season kicks into high gear, the implications are clear. If Avery and his colleagues can't convince the world of what's about to happen, toxic destruction could be loosed on American soil. Will their efforts prove too late?
- Publisher


Meet the Author
Davis Bunn
Davis Bunn is an internationally-acclaimed author who has sold more than four million books in fifteen languages. Honoured with three Christy Awards for excellence in historical and suspense fiction, he has written several bestsellers, including The Great Divide, Winner Take All, The Meeting Place, The Book of Hours, Drummer in the Dark, To the Ends of the Earth, and The Quilt. Davis is also the co-author of the Song of Acadia series with Janette Oke. A sought-after lecturer in the art of writing, Davis Bunn has been named Novelist in Residence at Regent's Park College, Oxford University.