Outcasts (#02 in The Safe Lands Series)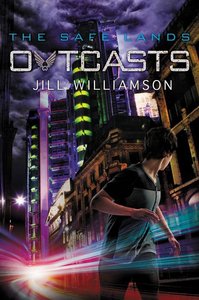 $

13.99

$

11.19
You Save: $2.80 (20%)
Paperback
Mason discovers someone has been stealing ISDs---immune-suppressive drugs. When he confronts his coworker, Ciddah, she admits to taking them for her parents, who live in the Lowlands. When Ciddah is absent from work, Mason visits her home, and discovers she has information on the Liberation propaganda the government is using on the people. But before she can tell him more, Mason's brother Omar begs for help saving the children born under the Safe Lands' edicts. They sail two dozen children down the aqueduct on a raft the way the 'liberated' bodies are moved to the Lowlands. When Omar realizesKendallis not with them, he and Mason fight about who should go back. Mason has the best cover. Mason returns to hisHighlandapartment where enforcers arrest him for conspiracy. He is taken to the Taskmaster's quarters where Kendall and Ciddah are being held. When Mason does not return, Omar dons his disguise and tries to rescue the others, but he walks into a trap. They are imprisoned and sentenced to be publicly 'liberated.' On their way to the liberation ceremony, Ciddah finishes telling Mason about those who die. 'That's the lie,' she explains. 'TheSafeLandnationals don't know it, but no one dies during liberation. They're exiled to theLowlandsto work the fields. That's where we will be sent. And that's where we will truly die.' They are each given a chance to pre-record something that will play over the telecast for the Safe Land public. Mason uses his to leave a clue for Levi, so that he will know where to look.

- Publisher
You May Also Be Interested In
About "Outcasts (#02 in The Safe Lands Series)"
Mason discovers someone has been stealing ISDs---immune-suppressive drugs. When he confronts his coworker, Ciddah, she admits to taking them for her parents, who live in the Lowlands. When Ciddah is absent from work, Mason visits her home, and discovers she has information on the Liberation propaganda the government is using on the people. But before she can tell him more, Mason's brother Omar begs for help saving the children born under the Safe Lands' edicts. They sail two dozen children down the aqueduct on a raft the way the 'liberated' bodies are moved to the Lowlands. When Omar realizesKendallis not with them, he and Mason fight about who should go back. Mason has the best cover. Mason returns to hisHighlandapartment where enforcers arrest him for conspiracy. He is taken to the Taskmaster's quarters where Kendall and Ciddah are being held. When Mason does not return, Omar dons his disguise and tries to rescue the others, but he walks into a trap. They are imprisoned and sentenced to be publicly 'liberated.' On their way to the liberation ceremony, Ciddah finishes telling Mason about those who die. 'That's the lie,' she explains. 'TheSafeLandnationals don't know it, but no one dies during liberation. They're exiled to theLowlandsto work the fields. That's where we will be sent. And that's where we will truly die.' They are each given a chance to pre-record something that will play over the telecast for the Safe Land public. Mason uses his to leave a clue for Levi, so that he will know where to look.
- Publisher


Meet the Author
Jill Williamson
Jill Williamson is a novelist, dreamer, and believer. Growing up in Alaska led to a love of books, and in 2010 her first novel, By Darkness Hid, won the Christy Award. She loves working with teenagers and gives writing workshops at libraries, schools, camps, and churches. Jill lives in Oregon with her husband and two children. Visit Jill online at www.jillwilliamson.com.
Other Titles In The "The Safe Lands Series" Series View All