Outlaw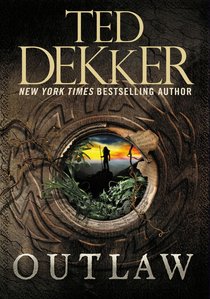 New York Times bestselling author Ted Dekker brings an exotic tale of adventure and creates his most memorable character ever.

The story of how I, Julian Carter, and my precious two-year old son, Stephen, left Atlanta Georgia and found ourselves on a white sailboat, tossed about like a cork on a raging sea off of Australia's northern tip in 1963, is harrowing.

But it pales in comparison to what happened deep in the jungle where I was taken as a slave by a savage tribe unknown to the world. Some places dwell in darkness so deep that even God seems to stay away.

There, my mind was torn in two by the gods of the earth. There, one life ended so another could begin.

Some will say I was a fool for making the choices I made. But they would have done the same. They, too, would have embraced death if they knew what I knew, and saw through my eyes.

My name is Julian and this is my story. But more, it is the story of my son who was born to change the world.

From deep in the impenetrable jungles where New York Times bestselling author Ted Dekker was born and raised, comes OUTLAW, an epic adventure of two worlds that perhaps only he could write. Full of harrowing twists, sweeping violence, and wild love, Outlaw takes us beyond the skin of this world to another unseen.

- Publisher
You May Also Be Interested In
About "Outlaw"
New York Times bestselling author Ted Dekker brings an exotic tale of adventure and creates his most memorable character ever.

The story of how I, Julian Carter, and my precious two-year old son, Stephen, left Atlanta Georgia and found ourselves on a white sailboat, tossed about like a cork on a raging sea off of Australia's northern tip in 1963, is harrowing.

But it pales in comparison to what happened deep in the jungle where I was taken as a slave by a savage tribe unknown to the world. Some places dwell in darkness so deep that even God seems to stay away.

There, my mind was torn in two by the gods of the earth. There, one life ended so another could begin.

Some will say I was a fool for making the choices I made. But they would have done the same. They, too, would have embraced death if they knew what I knew, and saw through my eyes.

My name is Julian and this is my story. But more, it is the story of my son who was born to change the world.

From deep in the impenetrable jungles where New York Times bestselling author Ted Dekker was born and raised, comes OUTLAW, an epic adventure of two worlds that perhaps only he could write. Full of harrowing twists, sweeping violence, and wild love, Outlaw takes us beyond the skin of this world to another unseen.
- Publisher


Meet the Author
Ted Dekker
Ted Dekker is known for novels that combine adrenaline-laced stories with unexpected plot twists, unforgettable characters, and incredible confrontations between good and evil. The son of missionaries, he grew up in the jungles of Indonesia. He returned to the United States to attend Evangel College, graduating with a religion & philosophy major. After several years in corporate marketing, in 1997 he began writing books like Heaven's Wager now he has written numerous books including bestsellers Skin, In the Blink of an Eye, Saint and Thr3e. Ted lives in Nashville, TN with his wife LeeAnn, and has four grown children.
Customer Reviews For "Outlaw"
Write Your Own Review
{{review.title}}
By {{review.author.name}},

{{review.reviewCreatedDate | date:'MMM dd yyyy'}}

{{reviewdescription}}
{{review.text}}
---