Outreach and the Artist: Sharing the Gospel With the Arts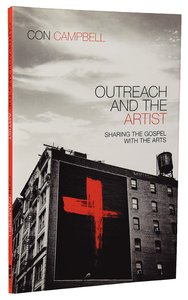 Whether you are an artist whose talents are an untapped source of energy for your church or a ministry leader wanting to involve artists and the creative arts in your outreach efforts, Outreach and the Artist will renew your vision. Musician and biblical scholar Con Campbell offers encouragement, wisdom, and practical tips for evangelism with, through, and to the arts: Evangelism with the Arts. While the abilities of Christian artists may serve the church internally, artists within the church usually have enormous untapped potential for outreach. Evangelism through the Arts. People's natural love for various artistic mediums provides a connection-point to exploring life's big questions with unbelievers in non-threatening and engaging ways. Evangelism to the Arts. Christian artists are uniquely positioned to make an impact in artistic networks, which often have no Christian witness or presence and tend to be shut off from conventional methods of outreach. Spreading the gospel is a task worth every God-given resource we have, and artists and their creative gifts are no exception.

- Publisher
You May Also Be Interested In
About "Outreach and the Artist: Sharing the Gospel With the Arts"
Whether you are an artist whose talents are an untapped source of energy for your church or a ministry leader wanting to involve artists and the creative arts in your outreach efforts, Outreach and the Artist will renew your vision. Musician and biblical scholar Con Campbell offers encouragement, wisdom, and practical tips for evangelism with, through, and to the arts: Evangelism with the Arts. While the abilities of Christian artists may serve the church internally, artists within the church usually have enormous untapped potential for outreach. Evangelism through the Arts. People's natural love for various artistic mediums provides a connection-point to exploring life's big questions with unbelievers in non-threatening and engaging ways. Evangelism to the Arts. Christian artists are uniquely positioned to make an impact in artistic networks, which often have no Christian witness or presence and tend to be shut off from conventional methods of outreach. Spreading the gospel is a task worth every God-given resource we have, and artists and their creative gifts are no exception.
- Publisher


Meet the Author
Constantine R Campbell
Constantine R. Campbell (Ph.D., Macquarie University) is Professor of New Testament at Trinity Evangelical Divinity School, Deerfield, Illinois. Previously, Dr Campbell was senior lecturer in Greek and New Testament at Moore Theological College in Sydney, Australia.

Dr Campbell is the author of numerous scholarly works on New Testament Greek: Basics of Verbal Aspect in Biblical Greek (Zondervan, 2008); Verbal Aspect and Non-Indicative Verbs: Further Soundings in the Greek of the New Testament (Peter Lang, 2008); Verbal Aspect, the Indicative Mood, and Narrative: Soundings in the Greek of the New Testament (Peter Lang, 2007) and Keep Your Greek: Strategies for Busy People (Zondervan, 2010); Colossians and Philemon: A Handbook on the Greek Text (Baylor University Press, 2013); Advances in the Study of Greek: New Insights for Reading the New Testament (Zondervan, 2015); and, with Richard J Gibson, Reading Biblical Greek Workbook: A Translation Guide to Mark 1-4 (Zondervan, 2017), and Reading Biblical Greek: A Grammar for Students (Zondervan, 2017).

Dr Campbell has also authored other works ranging from commentary and theology to gospel outreach, including: Paul and Union with Christ: An Exegetical and Theological Study (Zondervan, 2012), winner of the 2014 Christianity Today Book Awards; Outreach and the Artist: Sharing the Gospel with the Arts (Zondervan, 2013), 1, 2 & 3 John: The Story of God Bible Commentary (Zondervan, 2017), and Not Ashamed: 2 Timothy (Aquila, 2008).

In addition to his achievements in scholarship and teaching, Dr Campbell is a gifted jazz saxophonist, who continues to play at professional level, and has recorded with such talents as James Morrison and The Idea of North. Dr Campbell is also the presenter of a seven-part documentary series In Pursuit of Paul the Apostle.

Dr Campbell lives in Illinois with his wife and three children.
Media