Overcoming Panic Attacks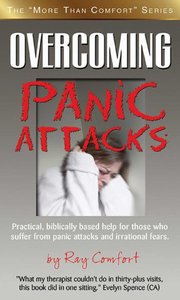 Practical help for those who suffer from panic attacks and irrational fears. This balanced book is credible from a medical standpoint, and invaluable from a spiritual one. Drawing on personal experience and that of countless people he has counseled, Ray Comfort takes you by the hand and walks you through a panic attack and right back out of one. Biblically based.

- Publisher In the United States, 1.6 percent of the adult population, or more than 3 million people, will develop a panic disorder. People who are having panic attacks aren?t losing their minds and aren?t destined to be controlled by addictive prescription drugs. There is real hope. Ray Comfort has answers. He knows from firsthand experience that these practical principles are keys that unlock chains and open immovable doors. He knows because this bold evangelist, author, and television host was once the unlikely prisoner of debilitating panic attacks. Ray shares how he was able to: Conquer paralyzing, irrational fear. Overcome despair. Restore peace, joy, and confidence. Live fully again.

- Publisher
You May Also Be Interested In
About "Overcoming Panic Attacks"
Practical help for those who suffer from panic attacks and irrational fears. This balanced book is credible from a medical standpoint, and invaluable from a spiritual one. Drawing on personal experience and that of countless people he has counseled, Ray Comfort takes you by the hand and walks you through a panic attack and right back out of one. Biblically based.
- Publisher

In the United States, 1.6 percent of the adult population, or more than 3 million people, will develop a panic disorder. People who are having panic attacks aren?t losing their minds and aren?t destined to be controlled by addictive prescription drugs. There is real hope. Ray Comfort has answers. He knows from firsthand experience that these practical principles are keys that unlock chains and open immovable doors. He knows because this bold evangelist, author, and television host was once the unlikely prisoner of debilitating panic attacks. Ray shares how he was able to: Conquer paralyzing, irrational fear. Overcome despair. Restore peace, joy, and confidence. Live fully again.
- Publisher


Meet the Author
Ray Comfort
Ray Comfort of Living Waters Publications (LWP) and Way of the Master is an internationally-renowned Christian evangelist, speaker and author. He has written over 40 books and LWP produces and distributes close to 6 million tracts each year (that practically give themselves away) and also offers the Excellence in Evangelism video series. His ministry has been commended by Franklin Graham, Josh McDowell, Dr. D. James Kennedy, Bill Gothard, David Wilkerson, Joni Eareckson Tada, and many other Christian leaders.
Most recently he has authored Moody Gold and Conquer Your Fear, Share Your Faith and Comfort Food.