Overcoming the Dark Side of Leadership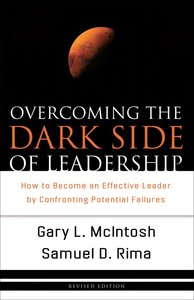 The Christian world has been rocked by the number of prominent leaders, in both church and parachurch organizations, who have been compromised by moral, ethical, and theological failures. This pace-setting volume addresses this alarming problem and offers Christian leaders valuable guidance in dealing with the inherent risks of their work.
Using biblical and current examples, the authors describe the characteristics of five types of leaders and the problems that are most likely to develop if their particular dysfunctions develop unrestrained. McIntosh and Rima offer a series of steps for leaders to consider so they can take control of their dark side and learn to harness its creative powers. This edition includes a new introduction, updated information throughout, a self-assessment tool, and other additional material. Includes endorsements from John Maxwell, Leighton Ford, Leith Anderson, and Rob Angel.

- Publisher
You May Also Be Interested In
About "Overcoming the Dark Side of Leadership"
The Christian world has been rocked by the number of prominent leaders, in both church and parachurch organizations, who have been compromised by moral, ethical, and theological failures. This pace-setting volume addresses this alarming problem and offers Christian leaders valuable guidance in dealing with the inherent risks of their work.
Using biblical and current examples, the authors describe the characteristics of five types of leaders and the problems that are most likely to develop if their particular dysfunctions develop unrestrained. McIntosh and Rima offer a series of steps for leaders to consider so they can take control of their dark side and learn to harness its creative powers. This edition includes a new introduction, updated information throughout, a self-assessment tool, and other additional material. Includes endorsements from John Maxwell, Leighton Ford, Leith Anderson, and Rob Angel.
- Publisher


Meet the Authors
Gary L Mcintosh
Gary L. McIntosh (Ph.D., Fuller Theological Seminary; D.Min., Fuller Theological Seminary) is professor of Christian ministry and leadership at Talbot School of Theology, he leads 20-25 national seminars a year, serves as a church consultant, was president of the American Society of Church Growth in 1995-1996, and has written numerous books, including Finding Them; The Issachar Factor: Three Generations: One Size Doesn't Fit All; Overcoming the Dark Side,; Staffing Your Church for Growth and most recently Taking your Church to the Next Level
Koorong -Editorial Review.
Samuel D Rima
Samuel D. Rima serves as a senior pastor in Sioux Falls, South Dakota. He is the founder and president of Leadership Formation Services, Inc., and is coauthor with Gary L. McIntosh of Overcoming the Dark Side of Leadership. A