Pagan Christianity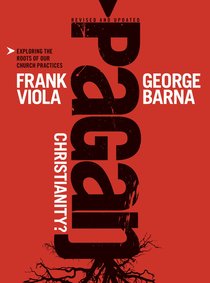 Have you ever wondered why we Christians do what we do for church every Sunday morning? Why do we "dress up" for church? Why does the pastor preach a sermon each week? Why do we have pews, steeples, and choirs? This ground-breaking book, now in affordable softcover, makes an unsettling proposal: most of what Christians do in present-day churches is rooted, not in the New Testament, but in pagan culture and rituals developed long after the death of the apostles. Coauthors Frank Viola and George Barna support their thesis with compelling historical evidence and extensive footnotes that document the origins of modern Christian church practices. In the process, the authors uncover the problems that emerge when the church functions more like a business organization than the living organism it was created to be. As you reconsider Christ's revolutionary plan for his church-to be the head of a fully functioning body in which all believers play an active role-you'll be challenged to decide whether you can ever do church the same way again.

- Publisher
You May Also Be Interested In
About "Pagan Christianity"
Have you ever wondered why we Christians do what we do for church every Sunday morning? Why do we "dress up" for church? Why does the pastor preach a sermon each week? Why do we have pews, steeples, and choirs? This ground-breaking book, now in affordable softcover, makes an unsettling proposal: most of what Christians do in present-day churches is rooted, not in the New Testament, but in pagan culture and rituals developed long after the death of the apostles. Coauthors Frank Viola and George Barna support their thesis with compelling historical evidence and extensive footnotes that document the origins of modern Christian church practices. In the process, the authors uncover the problems that emerge when the church functions more like a business organization than the living organism it was created to be. As you reconsider Christ's revolutionary plan for his church-to be the head of a fully functioning body in which all believers play an active role-you'll be challenged to decide whether you can ever do church the same way again.
- Publisher


Meet the Authors
Frank Viola
Frank Viola is an influential voice in the contemporary house church movement. For the last twenty years, he has been gathering with organic house churches in the United States. Frank has written eight revolutionary books on radical church restoration, including Gods Ultimate Passion, Rethinking the Wineskin, Who is Your Covering?, Pagan Christianity, Gathering in Homes and The Untold Story of the New Testament Church. He is a recognised expert on new trends for the church, holds conferences on the deeper Christian life, and is actively engaged in planting New Testament-styled churches. His Web site, frankviola.com, contains many free resources designed to enrich the spiritual lives of Gods people. Frank and his family live in Gainesville, Florida.
George Barna
George Barna received a doctorate from Dallas Baptist University, worked in the Massachusetts state legislature and as a pollster and a campaign manager. George and his wife, Nancy, founded the Barna Research Group in 1984. In 2004, he re-engineered the for-profit corporation into The Barna Group, of which he is the Directing Leader. The firm analyzes American culture and creates resources and experiences designed to facilitate moral and spiritual transformation.Located in Ventura, California, The Barna Group provides primary research (through its Barna Research Group division); musical, visual and digital media (through BarnaFilms); printed resources (BarnaBooks); spiritual and leadership development for young people (The Josiah Corps); and church enhancement (Transformational Church Network).
To date, Barna has written 39 books, including best sellers such as Revolution, Transforming Children into Spiritual Champions, The Frog in the Kettle, and The Power of Vision. His most recent books include Revolutionary Parenting and Pagan Christianity?
The Barna Research division has served several hundred parachurch ministries and thousands of Christian churches throughout the country. It has conducted research for numerous parachurch organizations, such as the Billy Graham Evangelistic Association; World Vision; American Bible Society; Campus Crusade for Christ; Thomas Nelson Publishers; Zondervan; and Tyndale House Publishers.
Customer Reviews For "Pagan Christianity"
Write Your Own Review
Important and timely book.
By Director,

Jan 09 2010
I've always had issues reconciling what we call Church with what I read in the Bible. We've taken the mystery of Christ and turned it into a set of rules and we've made God boring.  In this book, the authors have documented, with meticulous footnotes, how Christianity has devolved from a living organic presence headed by the living Lord Jesus Christ where each of us is a participant into the 'stageshow' (my words) that we call Church today where most of us are simply an 'audience'.  This book is a must read for anyone who can see the problems and limitations of what we call 'Church' and a must avoid for anyone who has turned Church into an idol.
---
Review quoted from Dr. Ralph W. Neighbour
By Shannon de Bie,

May 09 2009
Pagan Christianity documents specific areas where contemporary church life violates biblical principals. Whether you agree with all the conclusions the authors draw or not, you will have no argument with their documentation. It is a scholarly work with an explosive conclusion. Particularly for those of us in the modern cell-church movement, this is a valuable tool to force rethinking the meaning of the word ecclesia.
---
This is important
By David Eather,

Jul 02 2008
'Pagan Christianity' is an extremely poor book.  In a race to tar and feather everything different to his idea of a home church, Frank Viola discounts the work of nearly every church reformer (Luther, Wesley, Finney, Moody et el), dismisses the gifts of the Spirit as 'emotionalism' (p72), and implies that the 1800's revivalist movement was ethically bankrupt (p67-69).   Viola criticizes and belittles almost every aspect of the organisational church from church architecture to youth pastors.  
The arguments put forward are generally very superficial with little or no biblical support. 
 
The current church is accused of a cut-and-paste theology while Viola himself uses Colossians 2:13-14, 16-17 (p174) as part of a long-winded argument against a paid clergy (p171-185).  The missing verse, (Colossians 2:15) makes it clear that this section of scripture does not have Viola's intended meaning.   

Viola also makes extensive references to his other works (eg p233, 234, 235, 239 and many others) as appeals to the authority of his opinion and even quotes pages of this other work verbatim (eg p246-p250).  Just because you write it twice or put it in the footnotes doesn't make it more true.  

Viola completely misses the point that superficiality, legalism, hypocrisy and elitism are just at happy in jeans and a tee shirt as in a suit behind a pulpit, on a podium.  It is not the clothes on your back or where you worship, but what is in 
---
Essential Reading
By Ps David Thompson,

Apr 30 2008
Read this book if you dare! A thorough and scholarly researched book that examines the roots of first and second century Christianity that turned the world upside down in the face of extreme persecution and adversity. It systematically contrasts that dynamic, with the unscriptural practices that have led the followers of Christ, into an emasculated and poly-fragmented group based on perversions of New Testament Christianity through the customs and practices of men even to the present day. Be warned, it is not comfortable reading. It challenges many of our church structures and practices without fear or favour, with scalpel like insightfulness. It challenges the very basis for the cherised titles with which ministry positions are named, and the way we have emasculated and rendered the laity into powerless spectators, under the gifted oratory, and centrality of the sermon. The name of the book says it all. Most current practices accross denominations are almost universally Pagan in origin. The book presents a timely challenge! It is not the post mortem on a dead body, but rather a scriptural health check up of the ailing Body of Christ based on The Manufacturer's Handbook.  It is complete with appropriate prescriptions to restore the Bride to sound scriptural vitality and empowerment, free from the pagan bugs with which she has fallen gravely ill.
{{review.title}}
By {{review.author.name}},

{{review.reviewCreatedDate | date:'MMM dd yyyy'}}

{{reviewdescription}}
{{review.text}}
---