Panentheism: The Other God of the Philosophers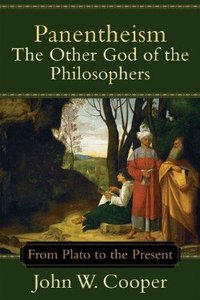 Panentheism has gained popularity among contemporary thinkers. This belief system explains that "all is in God"; as a soul is related to a body, so God is related to the world. In Panentheism--The Other God of the Philosophers, philosopher and theologian John Cooper traces the growth and evolution of this intricate theology from Plotinus to Alfred North Whitehead to the present. This landmark book--the first complete history of panentheism written in English--explores the subject through the lens of various thinkers, such as Plato, Jurgen Moltmann, Paul Tillich, Wolfhart Pannenberg, and Charles Hartshorne, and discusses how panentheism has influenced liberation, feminist, and ecological theologies. Cooper not only sketches the evolution of panentheism but also critiques it; ultimately, he offers a defense of classical theism. This book is for readers who care deeply about theology and think seriously about their faith.

- Publisher "Panentheism is a major movement in theology today. Students, pastors, and teachers will find this book by John Cooper to be a fine historical overview of panentheism. While no one will assent to all of its interpretations, the overall work is both broad and illuminating. The author includes theologians and philosophers who are influenced by panentheism and/or develop some of its themes. The critical chapter at the end of the book should not be overlooked."--Alan G. Padgett, professor of systematic theology, Luther Seminary, and coauthor of Christianity and Western Thought"This is a groundbreaking attempt to demonstrate the philosophical background of much modern Christian theology, to identify its 'natural religion.' Written with the utmost clarity and with quiet passion, it greatly helps to sharpen the differences between classical Christian theism and other views. Though dissenting from panentheism and from the theologies it fosters, John Cooper nevertheless writes with courtesy and good sense, letting the record speak for itself. The book is a model of lucidity and fairmindedness."--Paul Helm, Regent College"Here, finally, is a major evangelical response to panentheism, perhaps the most significant movement in twentieth-century theology. John Cooper brings impressive scholarship, masterful summaries, and measured judgments to his topic. One need not agree with his overall evaluation to find this volume an indispensable resource for Christian intellectuals today."--Philip Clayton, Ingraham Professor of Theology, Claremont School of Theology"An increasing number of Christian philosophers and theologians are expressing a renewed interest in panentheism, and Cooper's book provides an accessible overview of several key historical developments in this 'other' philosophical approach to the God-world relation. Even those who disagree with Cooper's interpretation of particular figures, or with his generally negative assessment of panentheism, will surely appreciate the humility and civility with which he approaches a conversation that is too often characterized by harsh rhetoric rather than careful attention to the nuances of various positions."--LeRon Shults, professor of theology, Agder University, Norway

- Publisher
You May Also Be Interested In
About "Panentheism: The Other God of the Philosophers"
Panentheism has gained popularity among contemporary thinkers. This belief system explains that "all is in God"; as a soul is related to a body, so God is related to the world. In Panentheism--The Other God of the Philosophers, philosopher and theologian John Cooper traces the growth and evolution of this intricate theology from Plotinus to Alfred North Whitehead to the present. This landmark book--the first complete history of panentheism written in English--explores the subject through the lens of various thinkers, such as Plato, Jurgen Moltmann, Paul Tillich, Wolfhart Pannenberg, and Charles Hartshorne, and discusses how panentheism has influenced liberation, feminist, and ecological theologies. Cooper not only sketches the evolution of panentheism but also critiques it; ultimately, he offers a defense of classical theism. This book is for readers who care deeply about theology and think seriously about their faith.
- Publisher

"Panentheism is a major movement in theology today. Students, pastors, and teachers will find this book by John Cooper to be a fine historical overview of panentheism. While no one will assent to all of its interpretations, the overall work is both broad and illuminating. The author includes theologians and philosophers who are influenced by panentheism and/or develop some of its themes. The critical chapter at the end of the book should not be overlooked."--Alan G. Padgett, professor of systematic theology, Luther Seminary, and coauthor of Christianity and Western Thought"This is a groundbreaking attempt to demonstrate the philosophical background of much modern Christian theology, to identify its 'natural religion.' Written with the utmost clarity and with quiet passion, it greatly helps to sharpen the differences between classical Christian theism and other views. Though dissenting from panentheism and from the theologies it fosters, John Cooper nevertheless writes with courtesy and good sense, letting the record speak for itself. The book is a model of lucidity and fairmindedness."--Paul Helm, Regent College"Here, finally, is a major evangelical response to panentheism, perhaps the most significant movement in twentieth-century theology. John Cooper brings impressive scholarship, masterful summaries, and measured judgments to his topic. One need not agree with his overall evaluation to find this volume an indispensable resource for Christian intellectuals today."--Philip Clayton, Ingraham Professor of Theology, Claremont School of Theology"An increasing number of Christian philosophers and theologians are expressing a renewed interest in panentheism, and Cooper's book provides an accessible overview of several key historical developments in this 'other' philosophical approach to the God-world relation. Even those who disagree with Cooper's interpretation of particular figures, or with his generally negative assessment of panentheism, will surely appreciate the humility and civility with which he approaches a conversation that is too often characterized by harsh rhetoric rather than careful attention to the nuances of various positions."--LeRon Shults, professor of theology, Agder University, Norway
- Publisher


Meet the Author
John W Cooper
John W. Cooper (Ph.D., University of Toronto) teaches philosophical theology at Calvin Theological Seminary in Grand Rapids, Michigan. He has written such books as Body, Soul, and Life Everlasting: Anthropology and the Monism-Dualism Debate, Panetheism: the God of the Philosophers and Our Father in Heaven: Christian Faith and Inclusive Language for God.-Editorial Review.