Panentheism: The Other God of the Philosophers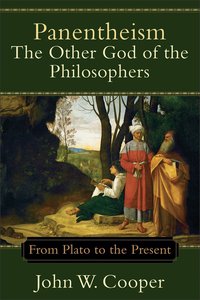 :Panentheism has gained popularity among contemporary thinkers. This belief system explains that "all is in God"; as a soul is related to a body, so God is related to the world. In Panentheism--The Other God of the Philosophers, philosopher and theologian John Cooper traces the growth and evolution of this intricate theology from Plotinus to Alfred North Whitehead to the present.

This landmark book--the first complete history of panentheism written in English--explores the subject through the lens of various thinkers, such as Plato, Jürgen Moltmann, Paul Tillich, Wolfhart Pannenberg, and Charles Hartshorne, and discusses how panentheism has influenced liberation, feminist, and ecological theologies. Cooper not only sketches the evolution of panentheism but also critiques it; ultimately, he offers a defense of classical theism. This book is for readers who care deeply about theology and think seriously about their faith.

- Publisher
You May Also Be Interested In
About "Panentheism: The Other God of the Philosophers"
:Panentheism has gained popularity among contemporary thinkers. This belief system explains that "all is in God"; as a soul is related to a body, so God is related to the world. In Panentheism--The Other God of the Philosophers, philosopher and theologian John Cooper traces the growth and evolution of this intricate theology from Plotinus to Alfred North Whitehead to the present.

This landmark book--the first complete history of panentheism written in English--explores the subject through the lens of various thinkers, such as Plato, Jürgen Moltmann, Paul Tillich, Wolfhart Pannenberg, and Charles Hartshorne, and discusses how panentheism has influenced liberation, feminist, and ecological theologies. Cooper not only sketches the evolution of panentheism but also critiques it; ultimately, he offers a defense of classical theism. This book is for readers who care deeply about theology and think seriously about their faith.
- Publisher


Meet the Author
John W Cooper
John W. Cooper (Ph.D., University of Toronto) teaches philosophical theology at Calvin Theological Seminary in Grand Rapids, Michigan. He has written such books as Body, Soul, and Life Everlasting: Anthropology and the Monism-Dualism Debate, Panetheism: the God of the Philosophers and Our Father in Heaven: Christian Faith and Inclusive Language for God.-Editorial Review.