Parenting Without the Power Struggles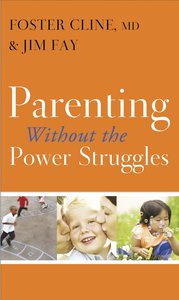 Through the miracle of birth, parents are given a tiny, defenseless babe totally dependent on them for every physical need. They have a mere eighteen years at most to ready that suckling for a world that can be cruel and heartless. That child's success in the real world hinges in large part on the parents. Just thinking about raising responsible, well-rounded kids sends a sobering shiver of responsibility right up the old parental spine.

But all is not so bleak. There's hope, shining beacon-bright, at the end of the tunnel of parental frustration. Parenting doesn?t have to be drudgery. Children can grow to be thinking, responsible adults. This booklet, excerpted and adapted from the best-selling Parenting with Love and Logic, was designed to help parents and kids establish a rewarding relationship built on love and trust. What a deal! By parenting with Love and Logic, mothers and fathers can do away with the power struggles and put the fun back into parenting.

- Publisher
You May Also Be Interested In
About "Parenting Without the Power Struggles"
Through the miracle of birth, parents are given a tiny, defenseless babe totally dependent on them for every physical need. They have a mere eighteen years at most to ready that suckling for a world that can be cruel and heartless. That child's success in the real world hinges in large part on the parents. Just thinking about raising responsible, well-rounded kids sends a sobering shiver of responsibility right up the old parental spine.

But all is not so bleak. There's hope, shining beacon-bright, at the end of the tunnel of parental frustration. Parenting doesn?t have to be drudgery. Children can grow to be thinking, responsible adults. This booklet, excerpted and adapted from the best-selling Parenting with Love and Logic, was designed to help parents and kids establish a rewarding relationship built on love and trust. What a deal! By parenting with Love and Logic, mothers and fathers can do away with the power struggles and put the fun back into parenting.
- Publisher


Meet the Authors
Foster Cline
FOSTER CLINE, M.D., is a physician, child psychiatrist, author, and internationally known speaker. He is the author of 8 books including Grandparenting With Love & Logic: Practical Solutions to Today's Grandparenting Challenges, Parenting with Love and Logic: Teaching Children Responsibility, Uncontrollable Kids: From Heartbreak to Hope, and Love and Logic Marriage, cofounder with Jim Fay of the Love and Logic Institute and co-author of the Parenting with Love and Logic series. He is an extremely powerful, knowledgeable, practical, humorous and entertaining presenter.
Jim Fay
Jim Fay, with over 30 years' experience in education, is nationally recognized as a consultant in behavior management and is one of America's most sought-after presenters on parenting and school discipline.Foster Cline, is an internationally acclaimed adult and child psychiatrist, author, consultant and speaker. He is well recognized for his theories of child development.