Parents of Missionaries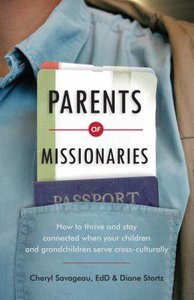 As a parent of a missionary you may feel that missing your child and your grandchildren signals a lack of faith. Please realize your conflicting emotions have real causes that can and should be talked about. It is possible to stay connected with your missionary and your grandchildren in meaningful ways and you can sustain and build those relationships despite the miles that separate. Not only can you survive as a POM—you can thrive. Whether you're the parent of a missionary recruit or a parent of an experienced missionary, you'll benefit from the authors' research and personal experience as they present a comprehensive plan for understanding missionary life, navigating the holidays, grandparenting long-distance and saying good-bye well. Parents of Missionaries equips you with the understanding, attitudes and skills you need to forge a vibrant new identity as a POM. Combining a counselor's professional insight and a parent's personal journey, plus ideas and stories from dozens of missionaries and POMs, Parents of Missionaries is a valuable tool for missions mobilizers and educators as well as parents. The authors contend that proclaiming the gospel and making disciples was not meant to eclipse the loving family bonds God ordained.The POM experience amounts to a journey through change, pain and adjustment. Wherever you are on that journey, Parents of Missionaries will encourage you and help you thrive and stay connected with your children and grandchildren serving cross-culturally.

- Publisher
You May Also Be Interested In
About "Parents of Missionaries"
As a parent of a missionary you may feel that missing your child and your grandchildren signals a lack of faith. Please realize your conflicting emotions have real causes that can and should be talked about. It is possible to stay connected with your missionary and your grandchildren in meaningful ways and you can sustain and build those relationships despite the miles that separate. Not only can you survive as a POM—you can thrive. Whether you're the parent of a missionary recruit or a parent of an experienced missionary, you'll benefit from the authors' research and personal experience as they present a comprehensive plan for understanding missionary life, navigating the holidays, grandparenting long-distance and saying good-bye well. Parents of Missionaries equips you with the understanding, attitudes and skills you need to forge a vibrant new identity as a POM. Combining a counselor's professional insight and a parent's personal journey, plus ideas and stories from dozens of missionaries and POMs, Parents of Missionaries is a valuable tool for missions mobilizers and educators as well as parents. The authors contend that proclaiming the gospel and making disciples was not meant to eclipse the loving family bonds God ordained.The POM experience amounts to a journey through change, pain and adjustment. Wherever you are on that journey, Parents of Missionaries will encourage you and help you thrive and stay connected with your children and grandchildren serving cross-culturally.
- Publisher


Meet the Author
Cheryl Savageau
Cheryl Savageau (EdD) is a professional clinical counselor with experience acquired in private practice, public agency, and church settings. Cheryl directed the Counseling Ministries at LifeSpring Christian Church in Cincinnati, Ohio.Her extensive research into the experience of parents of missionaries culminated in her doctoral dissertation entitled, An Ecological Analysis of the Stresses Experienced by Parents of Missionaries (2005).