Passages (Marus Manuscripts) (#01 in Adventures In Odyssey Passages Series)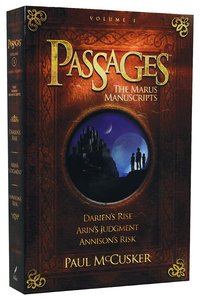 Arin?s Judgment: One minute, Wade Mullins is at home, attempting to destroy top-secret drawings for the atomic bomb. The next minute, he?s in an alternate world staring at a strange prophet who says Wade is the final sign, an end-time omen of a culture on the verge of annihilation.

Darien?s Rise: Anna wanted superpowers, but now she?s not so sure after being transported to a new planet. She sees visions of the future. And her brother Kyle is a bodyguard who can?t fail. But both of their powers are only used to help Darien, the rightful heir to the throne of Marus. Darien is being held by a man so evil, not even Anna and Kyle can save him.

Annison?s Risk: Maddy finds herself in a strange new land called Marus where a conquering king is about to marry a princess. The king?s most trusted adviser is hatching an evil plot to stamp out followers of the ?old faith,? and Maddy discovers that plan includes the new princess. Should Maddy reveal the truth and usher in political chaos? Or will the princess have to give up her life to bring peace?

- Publisher
You May Also Be Interested In
About "Passages (Marus Manuscripts) (#01 in Adventures In Odyssey Passages Series)"
Arin?s Judgment: One minute, Wade Mullins is at home, attempting to destroy top-secret drawings for the atomic bomb. The next minute, he?s in an alternate world staring at a strange prophet who says Wade is the final sign, an end-time omen of a culture on the verge of annihilation.

Darien?s Rise: Anna wanted superpowers, but now she?s not so sure after being transported to a new planet. She sees visions of the future. And her brother Kyle is a bodyguard who can?t fail. But both of their powers are only used to help Darien, the rightful heir to the throne of Marus. Darien is being held by a man so evil, not even Anna and Kyle can save him.

Annison?s Risk: Maddy finds herself in a strange new land called Marus where a conquering king is about to marry a princess. The king?s most trusted adviser is hatching an evil plot to stamp out followers of the ?old faith,? and Maddy discovers that plan includes the new princess. Should Maddy reveal the truth and usher in political chaos? Or will the princess have to give up her life to bring peace?
- Publisher


Meet the Author
Paul Mccusker
Paul McCusker is the creative content director for Focus on the Family. He has been a writer of fiction, nonfiction, and drama since 1979. His work includes over forty published novels, full-length plays, dramatic sketch collections, and song lyrics.
For the Adventures in Odyssey series alone, he has written over 200 half-hour radio episodes, eighteen novels, and two screenplays for the best-selling animated videos.
He has dramatized many classics for Focus on the Family Radio Theatre, including A Christmas Carol and Jan Karon's At Home in Mitford. He also wrote and directed the Peabody Award–winning Bonhoeffer: The Cost of Freedom and created the highly acclaimed Father Gilbert Mysteries series.
The novellas Epiphany and The Faded Flower, and more plus non-fiction, and co-authored You Say Tomato with best-selling British writer Adrian Plass. Epiphany was nominated for the ECPA Gold Medallion Award
Paul lives in Colorado Springs, Colorado, with his wife, Elizabeth, and their two children.
Other Titles In The "Adventures In Odyssey Passages Series" Series