Passion & Fire: Igniting Your Passion For God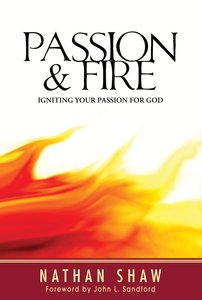 Passion and Fire tells the story of a powerful move of the Spirit in Vanuatu during which the face of Jesus appeared on a dormitory wall. Those who experienced this life changing encounter could only describe it as being immersed in a supernatural river of fiery love. This river is so powerful it ignites a level of passion that goes way beyond normal human experience. God is a consuming fire. But that's not the end of the story. He invites us into passionate relationship with Himself! Rather than a one off encounter this is a reality that every Christian can experience in their Christian walk. Passion is not ignited through human effort. To the contrary it is ignited when we know the extent of God's passionate supernatural love for us. Passion and Fire examines the legacy of passion recorded in the Bible and also awakens that passion through creative stories. Those who struggle to experience closeness with God will be particularly helped by the section on overcoming obstacles to intimacy.

- Publisher
You May Also Be Interested In
About "Passion & Fire: Igniting Your Passion For God"
Passion and Fire tells the story of a powerful move of the Spirit in Vanuatu during which the face of Jesus appeared on a dormitory wall. Those who experienced this life changing encounter could only describe it as being immersed in a supernatural river of fiery love. This river is so powerful it ignites a level of passion that goes way beyond normal human experience. God is a consuming fire. But that's not the end of the story. He invites us into passionate relationship with Himself! Rather than a one off encounter this is a reality that every Christian can experience in their Christian walk. Passion is not ignited through human effort. To the contrary it is ignited when we know the extent of God's passionate supernatural love for us. Passion and Fire examines the legacy of passion recorded in the Bible and also awakens that passion through creative stories. Those who struggle to experience closeness with God will be particularly helped by the section on overcoming obstacles to intimacy.
- Publisher


Meet the Author
Nathan Shaw
Nathan Shaw is the founder and head of Heart of David Ministries in New Zealand and conducts seminars on "Healing the Brokenhearted" and "Father of Mercy." With a connection to John Sandford's Elijah House School of Counseling, Shaw is committed to ministering to the brokenhearted around the world. He lives in Mosgiel, New Zealand.