Pastoral Ministry According to Paul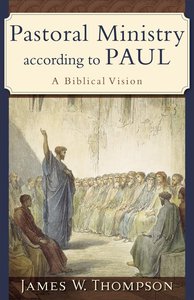 What is the ultimate purpose of pastoral ministry? What emphases and priorities should take precedence? In the day-to-day emphasis on various pastoral roles and pragmatic concerns, what can sometimes get lost is the theological foundation for understanding pastoral ministry.

James Thompson is a New Testament scholar with a concern for relating biblical studies to practical ministry. Here he does a careful study of several of Paul's epistles in order to see what Paul's vision and purpose were for his own ministry. He finds that Paul's aim was an ethical transformation of the communities (not just individuals) with which he worked, so that they would live lives worthy of the gospel until Christ's return. Using this as a framework, Thompson offers suggestions for practical application to contemporary ministry.

- Publisher
You May Also Be Interested In
About "Pastoral Ministry According to Paul"
What is the ultimate purpose of pastoral ministry? What emphases and priorities should take precedence? In the day-to-day emphasis on various pastoral roles and pragmatic concerns, what can sometimes get lost is the theological foundation for understanding pastoral ministry.

James Thompson is a New Testament scholar with a concern for relating biblical studies to practical ministry. Here he does a careful study of several of Paul's epistles in order to see what Paul's vision and purpose were for his own ministry. He finds that Paul's aim was an ethical transformation of the communities (not just individuals) with which he worked, so that they would live lives worthy of the gospel until Christ's return. Using this as a framework, Thompson offers suggestions for practical application to contemporary ministry.
- Publisher


Meet the Author
James Thompson
James W. Thompson is Professor of New Testament and the Associate Dean of the Graduate School of Theology at Abilene Christian University in Abilene, Texas. He is also an editor for "Restoration Quarterly".