Patches of Godlight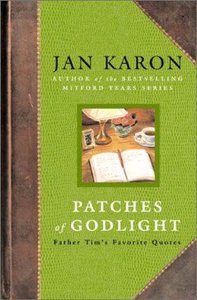 Written in Father Tim Kavanagh's own hand, this wonderful collection of quotes brings to life the personal reflections of Mitford's beloved Episcopal priest. Here Father Tim has carefully recorded his favorite quotes from a variety of thinkers, philosophers, and poets whom he has admired over the years. Next to the quotes are Father Tim's personal comments, scribblings, and doodlings. From C. S. Lewis and Mark Twain to Aristophanes and St. Paul, these heartwarming words on love, life, and faith are a perfect addition to the Mitford series-and a must-have for Jan Karon's millions of readers.

- Publisher Words of Wisdom from Mitford-A Treasury of Quotes that Inspire and Comfort Father Tim In Jan Karon's bestselling Mitford Years series, Father Tim Kavanagh is more than the local rector. He's a friend and counselor to nearly everyone in the village. For his own comfort and enjoyment, he turns to favorite books. When a particular passage strikes him, he jots it down in this "quote book." Filled with the wisdom of poets, humorists, clerics, and philosophers, from Christina Rossetti and St. Paul to C. S. Lewis and Thomas a Kempis, this volume is one of Father Tim's greatest treasures. For words that speak to the heart, and thinking that opens the windows of the soul, you too will cherish this personal, handwritten book-with room to add your favorite sayings, poems, and prayers.

- Publisher
You May Also Be Interested In
About "Patches of Godlight"
Written in Father Tim Kavanagh's own hand, this wonderful collection of quotes brings to life the personal reflections of Mitford's beloved Episcopal priest. Here Father Tim has carefully recorded his favorite quotes from a variety of thinkers, philosophers, and poets whom he has admired over the years. Next to the quotes are Father Tim's personal comments, scribblings, and doodlings. From C. S. Lewis and Mark Twain to Aristophanes and St. Paul, these heartwarming words on love, life, and faith are a perfect addition to the Mitford series-and a must-have for Jan Karon's millions of readers.
- Publisher

Words of Wisdom from Mitford-A Treasury of Quotes that Inspire and Comfort Father Tim In Jan Karon's bestselling Mitford Years series, Father Tim Kavanagh is more than the local rector. He's a friend and counselor to nearly everyone in the village. For his own comfort and enjoyment, he turns to favorite books. When a particular passage strikes him, he jots it down in this "quote book." Filled with the wisdom of poets, humorists, clerics, and philosophers, from Christina Rossetti and St. Paul to C. S. Lewis and Thomas a Kempis, this volume is one of Father Tim's greatest treasures. For words that speak to the heart, and thinking that opens the windows of the soul, you too will cherish this personal, handwritten book-with room to add your favorite sayings, poems, and prayers.
- Publisher


Meet the Author
Jan Karon
Jan Karon writes ato give readers an extended family and to applaud the extraordinary beauty of ordinary lives.a
Excerpt
Excerpt from: Patches of Godlight
:Selected Quotes from Patches of Godlight
None can love freedom heartily but good men; the rest love not freedom, but license.
           —Milton
Thou wilt keep him in perfect peace whose mind is stayed on thee . . . 
            —Isaiah 26:3
God does not give us overcoming life; He gives us life so we overcome. The strain is the strength. Are you asking God to give you life and liberty and joy? He cannot, unless you will accept the strain. Immediately you face the strain, you will get the strength.
           —Oswald Chambers, "My Utmost for His Highest"
As is our confidence, so is our capacity.
           --William Hazlitt
Civilization and violence are antithetical concepts.
           —Martin Luther King, Jr.
What lies behind us and what lies before us are tiny matters compared to what lies within us.
           —Ralph Waldo Emerson
The only thing necessary for the triumph of evil is for good men to do nothing.
           —Edmund Burke
I can do all things through Christ who strengthens me.
           —Philippians 4:13
One man with courage makes a majority.
           —Andrew Jackson
The wicked flee when no one pursues, but the righteous are bold as a lion.
           —Solomon
For God has not given us a spirit of fear, but of power and of love and of a sound mind.
           —St. Paul
Courage is not having the strength to go on; it is going on when you don't have the strength. Industry and determination can do anything that genius and advantage can do and many things that they cannot.
           —Theodore Roosevelt