Pattern of Wounds (#02 in A Roland March Mystery Series)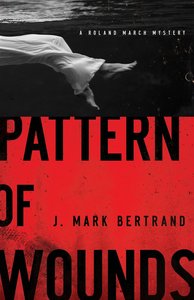 The investigation into a violent murder turns complicated when a link to a previous investigation reveals that a serial killer may be on the loose.For Detective Roland March, his latest case has become personal. March doesn't know the young female who was stabbed to death, but he thinks he recognizes the crime scene. Nearly ten years ago, March gained national fame as the subject of a true-crime book. But now this crime scene bears eerie similarities to that one. And whispers begin to emerge that March may have put the wrong man behind bars.

Worse, Houston may now have a serial killer on the loose. As more cases emerge that seem connected, and threats against March and those closest to him build, he must solve the case--rescuing not only the city but his own reputation as a homicide cop.J. Mark Bertrand is the author of the crime novel BACK ON MURDER (Bethany House, 2010), the first in a series featuring Houston homicide detective Roland March. He earned his MFA in Creative Writing from the University of Houston and now lives in South Dakota with his wife Laurie.
Also Available In
You May Also Be Interested In
About "Pattern of Wounds (#02 in A Roland March Mystery Series)"
The investigation into a violent murder turns complicated when a link to a previous investigation reveals that a serial killer may be on the loose.For Detective Roland March, his latest case has become personal. March doesn't know the young female who was stabbed to death, but he thinks he recognizes the crime scene. Nearly ten years ago, March gained national fame as the subject of a true-crime book. But now this crime scene bears eerie similarities to that one. And whispers begin to emerge that March may have put the wrong man behind bars.

Worse, Houston may now have a serial killer on the loose. As more cases emerge that seem connected, and threats against March and those closest to him build, he must solve the case--rescuing not only the city but his own reputation as a homicide cop.J. Mark Bertrand is the author of the crime novel BACK ON MURDER (Bethany House, 2010), the first in a series featuring Houston homicide detective Roland March. He earned his MFA in Creative Writing from the University of Houston and now lives in South Dakota with his wife Laurie.
- Koorong

For Detective Roland March, his latest case has become personal. March doesn't know the young female who was stabbed to death, but he thinks he recognizes the crime scene. Nearly ten years ago, March gained national fame as the subject of a true-crime book. But now this crime scene bears eerie similarities to that one. And whispers begin to emerge that March may have put the wrong man behind bars.

Worse, Houston may now have a serial killer on the loose. As more cases emerge that seem connected, and threats against March and those closest to him build, he must solve the case--rescuing not only the city but his own reputation as a homicide cop.
- Publisher


Other Titles In The "A Roland March Mystery Series" Series