Paul Meets Muhammad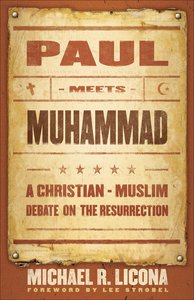 Imagine if the Apostle Paul were alive to defend the truth of Jesus's resurrection-only to be countered by none other than the prophet Muhammad himself.

In an approach as creative as any scholar has taken, Michael R. Licona describes an invention that can make historical figures appear alive and present. Imagining an audience of both Christians and Muslims, Licona crafts a lively debate between Paul and Muhammad, each speaking on and analyzing the validity of the Qur'an, the gospel accounts, and both Christian and Muslim doctrine.

Intriguing and entertaining, Paul Meets Muhammad uniquely offers evangelism advice for Christians who want to speak the gospel to Muslim friends and neighbors. This fictional scenario presents a powerful, comprehensive defense of Jesus's resurrection and of Christianity itself.

- Publisher
You May Also Be Interested In
About "Paul Meets Muhammad"
Imagine if the Apostle Paul were alive to defend the truth of Jesus's resurrection-only to be countered by none other than the prophet Muhammad himself.

In an approach as creative as any scholar has taken, Michael R. Licona describes an invention that can make historical figures appear alive and present. Imagining an audience of both Christians and Muslims, Licona crafts a lively debate between Paul and Muhammad, each speaking on and analyzing the validity of the Qur'an, the gospel accounts, and both Christian and Muslim doctrine.

Intriguing and entertaining, Paul Meets Muhammad uniquely offers evangelism advice for Christians who want to speak the gospel to Muslim friends and neighbors. This fictional scenario presents a powerful, comprehensive defense of Jesus's resurrection and of Christianity itself.
- Publisher


Meet the Authors
Michael Licona
Michael R. Licona (Ph.D., University of Pretoria) is Research Professor of New Testament at Southern Evangelical Seminary and on staff at the North American Mission Board. He is the author of Paul Meets Muhammad (Baker, 2006) and coauthor with Gary Habermas of the award-winning book The Case for the Resurrection of Jesus (Kregel, 2004) and the author of the recently published The Resurrection of Jesus: A New Historiographical Approach (InterVarsity Press, 2010).
Licona is a member of the Evangelical Philosophical Society, the Institute for Biblical Research and the Society of Biblical Literature. He is also a frequent speaker on university campuses and at churches, and has appeared on dozens of radio and television programs.
Lee Strobel (Fwd)
Atheist-turned-Christian, Lee Strobel is the former award-winning legal affairs editor of The Chicago Tribune. He holds a Master of Studies in Law degree, as well as a journalism degree and was a professional journalist for 14 years, winning Illinois' top honours for investigative reporting and public service journalism from United Press International.

In 1981, after a two-year investigation of the evidence for Jesus, Lee received Christ as his Saviour, and subsequently became a teaching pastor at two of America's largest churches - Willow Creek Community Church, Chicago in 1987 and Saddleback Valley Community Church, California in 2000. In 2002 he left Saddleback's staff to focus on writing.

A New York Times best-selling author of nearly 20 books, he has been described by the Washington Post as "one of the evangelical community's most popular apologists." His journey from atheism to faith has been documented in the Gold Medallion-winning books The Case for Christ, Inside the Mind of Unchurched Harry and Mary and The Case for Faith.

His other best-sellers include Surviving a Spiritual Mismatch in Marriage, which he co-authored with his wife, Leslie; God's Outrageous Claims and What Jesus Would Say? Lee also shared the prestigious ECPA Jordon Christian Book of the Year award in 2005 for a curriculum he co-authored about the movie The Passion of the Christ.

Lee is also co-author of the Becoming a Contagious Christian training curriculum, which is used around the world. And his articles have been published in a variety of magazines, including Discipleship Journal, Marriage Partnership, The Christian Research Journal, Guideposts, and Decision. He is also a contributing editor and columnist for Outreach on-line magazine.

Lee and Leslie have been married for 33 years and live in Southern California. They have a daughter, Alison, and son Kyle who is married to Kellie, both Alison and Kyle are writers.
- Koorong