Paul, the Fool of Christ (Journal For The Study Of The New Testament Supplement Series)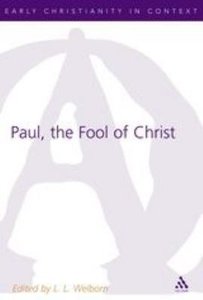 In this text, Welborn argues that Paul's evaluation of the gospel as 'foolishness' is best understood in the tradition of ancient popular culture that valorizes the subversive wisdom of Aesop, Socrates and the fool in the mime.

- Publisher Welborn argues that Paul's acceptance of the role of a 'fool', and his evaluation of the message of the cross as 'foolishness', are best understood against the background of the popular theatre and the fool's role in the mime. Welborn's investigation demonstrates that the term 'folly' (moria) was generally understood as a designation of the attitude and behaviour of a particular social type - the lower class buffoon. As a source of amusement, these lower class types were widely represented on the stage in the vulgar and realistic comedy known as the mime. Paul's acceptance of the role of the fool mirrors the strategy of a number of intellectuals in the early Empire who exploited the paradoxical freedom that the role permitted for the utterance of a dangerous truth.

- Publisher
You May Also Be Interested In
About "Paul, the Fool of Christ (Journal For The Study Of The New Testament Supplement Series)"
In this text, Welborn argues that Paul's evaluation of the gospel as 'foolishness' is best understood in the tradition of ancient popular culture that valorizes the subversive wisdom of Aesop, Socrates and the fool in the mime.
- Publisher

Welborn argues that Paul's acceptance of the role of a 'fool', and his evaluation of the message of the cross as 'foolishness', are best understood against the background of the popular theatre and the fool's role in the mime. Welborn's investigation demonstrates that the term 'folly' (moria) was generally understood as a designation of the attitude and behaviour of a particular social type - the lower class buffoon. As a source of amusement, these lower class types were widely represented on the stage in the vulgar and realistic comedy known as the mime. Paul's acceptance of the role of the fool mirrors the strategy of a number of intellectuals in the early Empire who exploited the paradoxical freedom that the role permitted for the utterance of a dangerous truth.
- Publisher


Meet the Author
L L Welborn
Laurence L. Welborn is Assistant Professor of New Testament at United Theological Seminary in Dayton, Ohio.
Table Of Contents
Preface; Abbreviations; Introduction; Chapter 1: Traditional Interpretations; Chapter 2: The Provenance Of The Concept; Chapter 3: The Generic Meaning; Chapter 4: Confirmation And Clarification; Chapter 5: Appropriation Of The Role; Chapter 6: Evaluation Of The Role; Chapter 7: Acceptance Of The Role; Bibliography; Index Of References; General Index.
Other Titles In The "Journal For The Study Of The New Testament Supplement" Series View All