Paul Through Mediterranean Eyes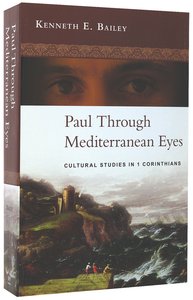 Paul was a Hebrew of the Hebrews, steeped in the learning of his people. But he was also a Roman citizen who widely traveled the Mediterranean basin, and was very knowledgeable of the dominant Greek and Roman culture of his day. These two mighty rivers of influence converge in Paul's first letter to the Corinthians.

With razor-sharp attention to the text, Kenneth Bailey examines the cultural milieu and rhetorical strategies that shaped this pivotal epistle. He discovers the deep layers of the Hebraic prophetic tradition informing Paul's writing, linking the Apostle with the great prophets of the Old Testament.

Throughout, Bailey employs his expert knowledge of Near Eastern and Mediterranean culture to deliver to readers a new understanding of Paul and his world. Familiar passages take on a new hue as they are stripped of standard Western interpretations and rendered back into their ancient setting.



- Publisher "Well-known for his numerous works on Jesus and the Gospels through Middle Eastern eyes, Kenneth Bailey now turns his attention to Paul's writing as he provides a powerful and passionate reading of 1 Corinthians within its Jewish and eastern Mediterranean contexts. Suggesting that 1 Corinthians is an 'apostolic homily' written within the framework of Old Testament 'prophetic homily,' this work itself can be considered as a modern 'homily' that skillfully allows Paul's message to touch the hearts of the contemporary audience. Particularly worth noting is Bailey's reading of this epistle through the lens provided by Arabic, Syriac, and Hebrew translations from the fourth century up to the modern period. To students of the New Testament text, this provides an invaluable resource for the history of the reception of Paul's message to the Corinthian believers. To the general audience, this also serves as a helpful reminder of the significance of the long history behind our appropriation of the sacred texts."

- Publisher In this groundbreaking study of Paul's first epistle to the Corinthians, Kenneth Bailey examines the canonical letter through Paul's Jewish socio-cultural and rhetorical background and through the Mediterranean context of its Corinthian recipients.

- Publisher
You May Also Be Interested In
About "Paul Through Mediterranean Eyes"
Paul was a Hebrew of the Hebrews, steeped in the learning of his people. But he was also a Roman citizen who widely traveled the Mediterranean basin, and was very knowledgeable of the dominant Greek and Roman culture of his day. These two mighty rivers of influence converge in Paul's first letter to the Corinthians.

With razor-sharp attention to the text, Kenneth Bailey examines the cultural milieu and rhetorical strategies that shaped this pivotal epistle. He discovers the deep layers of the Hebraic prophetic tradition informing Paul's writing, linking the Apostle with the great prophets of the Old Testament.

Throughout, Bailey employs his expert knowledge of Near Eastern and Mediterranean culture to deliver to readers a new understanding of Paul and his world. Familiar passages take on a new hue as they are stripped of standard Western interpretations and rendered back into their ancient setting.


- Publisher

"Well-known for his numerous works on Jesus and the Gospels through Middle Eastern eyes, Kenneth Bailey now turns his attention to Paul's writing as he provides a powerful and passionate reading of 1 Corinthians within its Jewish and eastern Mediterranean contexts. Suggesting that 1 Corinthians is an 'apostolic homily' written within the framework of Old Testament 'prophetic homily,' this work itself can be considered as a modern 'homily' that skillfully allows Paul's message to touch the hearts of the contemporary audience. Particularly worth noting is Bailey's reading of this epistle through the lens provided by Arabic, Syriac, and Hebrew translations from the fourth century up to the modern period. To students of the New Testament text, this provides an invaluable resource for the history of the reception of Paul's message to the Corinthian believers. To the general audience, this also serves as a helpful reminder of the significance of the long history behind our appropriation of the sacred texts."
- Publisher

In this groundbreaking study of Paul's first epistle to the Corinthians, Kenneth Bailey examines the canonical letter through Paul's Jewish socio-cultural and rhetorical background and through the Mediterranean context of its Corinthian recipients.
- Publisher


Meet the Author
Kenneth Bailey
Kenneth E. Bailey (Th.D., Concordia Theological Seminary) is an author, lecturer and emeritus research professor of Middle Eastern New Testament studies for the Tantur Ecumenical Institute in Jerusalem. An ordained Presbyterian minister, he serves as Canon Theologian of the Diocese of Pittsburgh of the Episcopal Church, USA. He holds graduate degrees in Arabic language and literature, systematic theology, and New Testament. He also spent forty years living and teaching New Testament in Egypt, Lebanon, Jerusalem and Cyprus. He is the author of Jesus Through Middle Eastern Eyes (Intervarsity Press); Poet & Peasant (Eerdmans); Through Peasant Eyes (Eerdmans), and Finding the Lost: Cultural Keys to Luke 15 (Concordia). He is a popular contributor to BRF's Guidelines Bible reading notes.
Table Of Contents
Abbreviations

Preface

Introduction

Prelude: The Prophetic Homily Rhetorical Style And Its Interpretation

Text And Commentary

0.1 Greeting And Prayer Of Thanksgiving 1:1-9

1. The Cross And Christian Unity 1:10--4:16

1.1 The Problem: Divisions, Baptism And The Cross 1:10-16

1.2 The Wisdom And Power Of God: The Cross 1:17--2:2

1.3 The Wisdom Of God: Revealed Through The Spirit 2:3-16

1.4 Christian Unity: Paul, Apollos And Cephas As One 3:1--4:16

2. Sex: Men And Women In The Human Family 4:17--7:40

2.1 Immorality And The Church 4:17--5:6a

2.2 (three Roadblocks: Leaven, Immorality And The Law Courts 5:6b--6:8)

2.3 Theology Of Sexual Practice: Kingdom Ethics 6:9-12

2.4 Theology Of Sexual Practice: Joining The Body 6:13-20

2.5 Sexual Practice In Harmony With The Gospel 7:1-40

3. Christian And Pagan: Freedom And Responsibility 8:1--11:1

3.1 Food Offered To Idols: Freedom And Responsibility 8:1-13

3.2 Paul's Personal Freedom And Responsibility 9:1-18

3.3 Freedom In Mission: Full Identification 9:19-27

3.4 Old Covenant Sacraments And Idolatry: Partial Identification 10:1-13

3.5 New Covenant Sacraments And Idolatry: No Identification 10:14-22

3.6 Food Offered To Idols: Freedom And Responsibility (a Final Word) 10:23--11:1

4. Worship: Men And Women In The Church 11:2--14:40

4.1 Men And Women Leading In Worship: Prophets And How They Dress 11:2-16

4.2 Order In Worship: Sacrament----the Lord's Supper 11:17-34

4.3 Gifts And The Nature Of The Body 12:1-30

4.4 The Hymn To Love 12:31--14:1

4.5 Spiritual Gifts And The Upbuilding Of The Body 14:1-25

4.6 Order In Worship: Word----prophets And Speakers In Tongues 14:26-33

4.7 Women And Men Worshiping: No Chatting In Church 14:34-40

5. Resurrection: Faith, Christ And Victory 1:1-58

5.1 Resurrection: The Message And The Validity Of Faith 15:1-20

5.2 Resurrection: Adam And Christ--the End Of All Things 15:21-28

5.3 Resurrection And Ethics 15:29-34

5.4 Resurrection: Adam And Christ--the Nature Of The Resurrected Body 15:35-50

5.5 Resurrection: Victory 15:51-58

6. Concluding Notes: Funding, Leadership, Greetings And Final Admonition16:1-23

Appendix 1: Common Themes In 1 Corinthians And Amos

Appendix 2: Evidence From The Oriental Versions Used In This Study

Glossary

Bibliography

Notations On The Oriental Versions Used In This Study

Ancient Author Index

Modern Author Index

Ancient Text Index

Scripture Index