Pearl (#02 in Dakotah Treasures Series)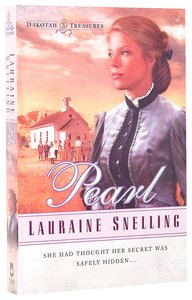 Ruby Torvald has turned Dove House, the scandalous inheritance her father left to her and her sister, into a respectable establishment. Her newest boarder is Pearl Hossfuss, a twenty-two-year-old schoolteacher from Chicago. Hiding scars within and without, Pearl has given up hope that any man would want to marry her. Her father has his own ideas, insisting she marry his clerk, a widower with five children.

So Pearl flees to Dakotah Territory in response to an ad requesting a teacher for the town of Little Missouri. She finds teaching in this rural setting rewarding and interesting - even more so when she makes the acquaintance of an intriguing young carpenter, Carl Hegland. But just as her future begins to look brighter, news arrives that her father is coming to take her back to Chicago.

When disaster threatens, will these lovely jewels of the West be forced to abandon their dreams?


- Publisher Book 2 of Dakotah Treasures. Author Lauraine Snelling takes readers further forward in Ruby Torvald??'s story as Dove House becomes a well-known establishment. Ruby plays matchmaker between the lovely but hidden Pearl and the carpenter Soren, who longs to uncover the beauty in Pearl that seems to be damaged by a tragic childhood. Ruby??'s own heart is torn by loyalty to the major and a surprising new suitor. But when a disaster threatens their future, will these jewels of the prairie be forced to abandon their dreams for the security of the east?

- Publisher Having established the Dove House in town, Ruby is set on finding love for her sister-and herself!

- Publisher
You May Also Be Interested In
About "Pearl (#02 in Dakotah Treasures Series)"
Ruby Torvald has turned Dove House, the scandalous inheritance her father left to her and her sister, into a respectable establishment. Her newest boarder is Pearl Hossfuss, a twenty-two-year-old schoolteacher from Chicago. Hiding scars within and without, Pearl has given up hope that any man would want to marry her. Her father has his own ideas, insisting she marry his clerk, a widower with five children.

So Pearl flees to Dakotah Territory in response to an ad requesting a teacher for the town of Little Missouri. She finds teaching in this rural setting rewarding and interesting - even more so when she makes the acquaintance of an intriguing young carpenter, Carl Hegland. But just as her future begins to look brighter, news arrives that her father is coming to take her back to Chicago.

When disaster threatens, will these lovely jewels of the West be forced to abandon their dreams?

- Publisher

Book 2 of Dakotah Treasures. Author Lauraine Snelling takes readers further forward in Ruby Torvald??'s story as Dove House becomes a well-known establishment. Ruby plays matchmaker between the lovely but hidden Pearl and the carpenter Soren, who longs to uncover the beauty in Pearl that seems to be damaged by a tragic childhood. Ruby??'s own heart is torn by loyalty to the major and a surprising new suitor. But when a disaster threatens their future, will these jewels of the prairie be forced to abandon their dreams for the security of the east?
- Publisher

Having established the Dove House in town, Ruby is set on finding love for her sister-and herself!
- Publisher


Meet the Author
Lauraine Snelling
Lauraine Snelling is an award-winning author of over 50 books including The Healing Quilt, The Way of Women, and Saturday Morning. The recipient of the Silver Angel Award and a Romance Writers of America Golden Heart, she also writes for a wide range of magazines and teaches at writers' conferences across the country. She and her husband make their home in Tehachapi, California.
-Publisher.


Other Titles In The "Dakotah Treasures" Series View All