Perfectly Matched (#03 in Blue Willow Brides Series)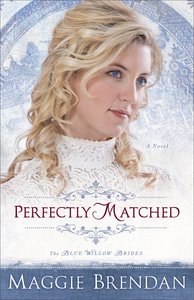 Anna Olsen knows it's time to leave her sister's increasingly crowded house and start a life of her own. Following her sisters' examples, she becomes a mail-order bride, and after a short correspondence with clock maker and jeweler Edward Parker, she moves to Denver to become his wife. Almost immediately it's painfully apparent that Anna and Edward are very different. Anna is a free spirit who would rather be painting and enjoying the company of friends than cleaning house. Edward is a consummate perfectionist who, on their wedding day, hands Anna a list of chores that need to be done around the house daily.

Can this mismatched couple see past their differences to a harmonious future? Or will their disparate passions create obstacles neither is willing to surmount?

Maggie Brendan closes her Blue Willow Brides series with a heartwarming tale of true love despite misunderstanding, showing readers that God's timing is always perfect.

- Publisher
You May Also Be Interested In
About "Perfectly Matched (#03 in Blue Willow Brides Series)"
Anna Olsen knows it's time to leave her sister's increasingly crowded house and start a life of her own. Following her sisters' examples, she becomes a mail-order bride, and after a short correspondence with clock maker and jeweler Edward Parker, she moves to Denver to become his wife. Almost immediately it's painfully apparent that Anna and Edward are very different. Anna is a free spirit who would rather be painting and enjoying the company of friends than cleaning house. Edward is a consummate perfectionist who, on their wedding day, hands Anna a list of chores that need to be done around the house daily.

Can this mismatched couple see past their differences to a harmonious future? Or will their disparate passions create obstacles neither is willing to surmount?

Maggie Brendan closes her Blue Willow Brides series with a heartwarming tale of true love despite misunderstanding, showing readers that God's timing is always perfect.
- Publisher


Meet the Author
Maggie Brendan
Maggie Brendan is a member of American Christian Writers and the American Fiction Writers Association, and is a contributor to www.bustlesandspurs.com, a website for inspirational romance in the old West. You can read her blog at southernbellewriter.blogspot.com. She is the author of No Place for a Lady and The Jewel of His Heart, and lives in Georgia.
Other Titles In The "Blue Willow Brides Series" Series