Performing the Faith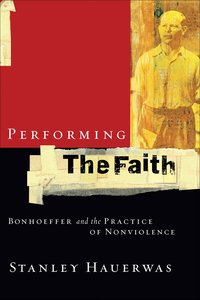 September 11, Afghanistan, Iraq--more than ever, this is a time for the church to be taking up the question of what, as Christians, our response to violence should be.
In Performing the Faith, Stanley Hauerwas revisits the familiar territory of political nonviolence through discussion of the writings of Dietrich Bonhoeffer-Christian ethicist, theologian, and by some definitions, martyr. This book is an intriguing commentary on Bonhoeffer's bold claim that if our common life rests on lies and injustice, we cannot be a community of peace.
Pastors, seminarians, and those interested in Christian ethics are among the many who will be interested in this new word from an unwavering, faithful voice.

- Publisher
You May Also Be Interested In
About "Performing the Faith"
September 11, Afghanistan, Iraq--more than ever, this is a time for the church to be taking up the question of what, as Christians, our response to violence should be.
In Performing the Faith, Stanley Hauerwas revisits the familiar territory of political nonviolence through discussion of the writings of Dietrich Bonhoeffer-Christian ethicist, theologian, and by some definitions, martyr. This book is an intriguing commentary on Bonhoeffer's bold claim that if our common life rests on lies and injustice, we cannot be a community of peace.
Pastors, seminarians, and those interested in Christian ethics are among the many who will be interested in this new word from an unwavering, faithful voice.
- Publisher


Meet the Author
Stanley Hauerwas
Stanley Hauerwas (Ph.D.,Yale University) is the Gilbert T. Rowe Professor of Theological Ethics at Duke University. He is the author of many books, including Performing the Faith, The Peaceable Kingdom; With the Grain of the Universe; A Better Hope; Christian Existence Today.
His book, A Community of Character: Toward a Constructive Christian Social Ethic, was selected as one of the 100 most important books on religion of the 20th century. Dr. Hauerwas recently authored Matthew (Brazos Theological Commentary on the Bible), and The State of the University: Academic Knowledges and the Knowledge of God, (Oxford: Blackwell Publishing, 2007).