Personal Development God's Way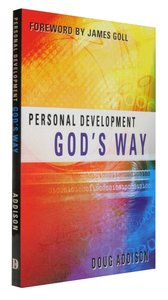 This book is about life-changing spiritual principles from the Bible that can help you achieve your life's purpose. Many Christians today do not know their destiny or even their spiritual gifts. People turn to self-help programs that are often filled with psychology and New Age theology. Most of these positive thinking programs use principles found in the Bible but discard a relationship with Jesus and do not utilize the power of the Holy Spirit. This book unites a deeper relationship with God with the power of spiritual principles that most Christians know about but few actually practice consistently. It takes into consideration Gods timing and will for your life as opposed to going after whatever you think you might want

- Publisher
You May Also Be Interested In
About "Personal Development God's Way"
This book is about life-changing spiritual principles from the Bible that can help you achieve your life's purpose. Many Christians today do not know their destiny or even their spiritual gifts. People turn to self-help programs that are often filled with psychology and New Age theology. Most of these positive thinking programs use principles found in the Bible but discard a relationship with Jesus and do not utilize the power of the Holy Spirit. This book unites a deeper relationship with God with the power of spiritual principles that most Christians know about but few actually practice consistently. It takes into consideration Gods timing and will for your life as opposed to going after whatever you think you might want
- Publisher


Meet the Author
Doug Addison
Addison is the owner of Doug Addison Web Productions. He specializes in advanced website design, strategic and content management, databases for Web productions, writing and editing for the Web, managing Web project assets and writers, programmers, artists and designers.